Of all the fencing materials, chain link is the oldest material to be used for fencing. It is an excellent choice for both residential and commercial use. A chain link fence is typically used to make the parameter of your landscape secure and enclosed. Compared to the other fencing materials, chain links are very durable and economical at the same time. It uses a woven wire mesh type material interlocked with each other and wound to a steel post. Though it doesn't have a very classy look to it, talking about its practicality, there is nothing better than getting a chain link fence.
The affordability of chain link fences is the primary thing that makes it the most preferred choice for both commercial and residential property owners. Moreover, at such a reasonable price, you get to fence your property without making any compromise in its quality and reliability. It's an ideal choice for those people who have a very limited budget for fencing. =
Many people install chain link fences to make their property secure. Trust us when we say that there is no fencing material as safe and secure as the chain link fence. It connects the interlocked wire mesh patterns close to each other. These are then fixed to steel posts that are embedded in the ground for maximum security. Since the chain link fence offers maximum protection, you can use it in any area of your property. Commercially chain link fences are even used in military facilities, airbases, and so on. You can even install chain link fences over 12 feet.
When it comes to durability, nothing can beat chain link fences. These can be made from several kinds of materials, with each offering its durability and reliability. The materials that you want to use in your chain link fences totally depend upon your preferences. The modern chain link fence design is very different from that of the one back in the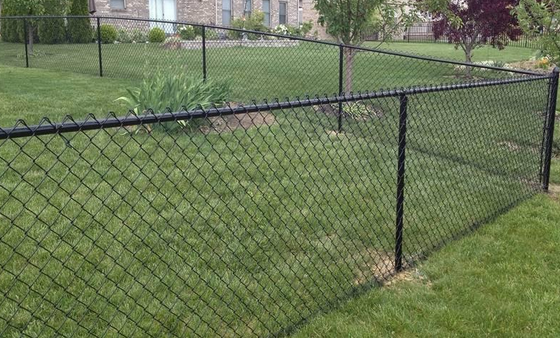 past. There are no zinc materials used in chain fences anymore that tend to rust over time.
You can choose from the vast array of design choices available in chain link fences. The most common chain link fence has a classic silver steel finish. But you can choose from many other options of colors of chain link fence. Moreover, we are always here to help you through the process, and even if you want to get any thickness or length of the chain link fence to be installed at your place, we are always here to guide you.
Another primary reason for the popularity of chain link fencing is because they are very easy to maintain and repair. Once you have a chain link fence properly installed, you won't need to do any specific maintenance to keep it in order. If a chain link fence gets damaged, the best way forward is to cut it and get it fixed. Comparatively, the chain link fence is super easy to install. For installing a chain link fence, you can make use of our Calgary fence contractors and Calgary fence builders that are experts in what they do and will help you all the way long to your satisfaction.
Chain link fences are a must in some Calgary residential zones due to architectural control. They provide durability, long lasting finish, little to no maintenance and are cost effective. Chain link fence is made of woven steel wire than forms a diamond pattern and is then either galvanized in zinc or coated in vinyl. There are a few different gauges, or thicknesses, of chain-link fabric and three different colors to choose from: standard galvanized, black vinyl coated and green vinyl coated. For privacy issues on chain link fencing project landscape also offers privacy slat installation in a variety of different colors.
Chain link fencing add on features 
A great way to eliminate the growth of grass and weeds from coming through your fence.
Colors To Choose From
Chain link privacy slats
An inexpensive way to create backyard privacy and reduce the wind load
Colors
Privacy slats are available in many different colors, depending on the profile chosen. Beige, grey, white and black are some of the more popular choices, but blue, red and green are also available in many profile options.