Composite Decking
Composite decking has become a more popular choice among residential homes throughout Calgary and surrounding areas, this is because of its high durability, no maintenance and the choices of colors. This type of decking is more upfront than wood materials. Where you save money is on maintenance such as, staining or painting as well as replacing boards from splintering.
While a wood deck is cheaper to build, it will cost you more year to year for upkeep. With composite decking in Calgary, a simple spray down with your garden hose now and again is all it needs.
The only disadvantage of composite decking is the price upfront and that it can grow mold under the floorboards over time. This is why project landscape takes every precaution of doing things right the first time. On all joists we install joist tape to prevent this from happening, just another thing we do so you get the greatest value for your dollar.
Composite decking is an alternative to wood decking, made up of plastic, wood fibers, and other bonding agents. In the early 1990s, Wood-plastic composites were introduced in the market for decking purposes, and sooner they started growing popular because of their long life and robustness.
Composite decking is made from a combination of all recycled plastic, hardwood waste. All these are mixed with pigments, inhibitors, borate preservatives, and then heated to transform into board-shaped lengths, which are then cooled.
Benefits of composite decking
Composite decks have several benefits, from their durability to safety, and looks fascinating when decorating your outdoor with.
Safe and secure
Composite decking, unlike regular decking, prevents Weathering, Warping, Splintering, or Fading. A composite deck is slip-resistant and splinter-free; due to the innovative fitting, no nails, screws are outside facing the deck, which can hurt your feet. It is entirely barefoot friendly.
Durability
Traditional decking, no doubts, looks fascinating, but it is easily weathered. Hard rain, storms, blistering heat, and other unexpected weather changes can make the deck fade and wrap. The composite deck never requires much maintenance, as it is highly resistant to mold, rain, heat, scratching, and staining. It lasts much more longer and is suitable for any environmental changes.  As it is resistant to heat and rainstorms, so you need not worry about it cracking. An average wooden deck lasts for 15-20 years, but composite decks are durable enough to last over 30 years. 
Texture/Design:
Composite decking matches the look of exotic hardwood and traditional wood timber. It comes in various colors, with different designs and styles, which makes your outdoor living space much more appealing. Calgary decking is relatively more color stable, the initial color lightening as the product weathers look amazing, which usually occurs in the first few months. Without the use of screws and nails, the deck has a smooth and clear surface, giving it an elegant modern feel.
---
How composite decking can fit into your outdoor living space
The heart of your house is your living area, and the heart of your outdoor living room is decking. Outdoor living space deserves to be the best and designed perfectly. It's the first impression of your house where everyone prefers to spend their time, sit and relax. Composite decking can perfectly fit into your outdoor living space.
Calgary deck is a fantastic option because it requires low maintenance, has an attractive appearance, and it is durable. You can extend your outdoor living space with a raised deck or balcony without even disturbing your garden. Such areas tend to offer spectacular views of the area; you can sit, plan some Bar B Q, and many more. It's beneficial for people who are thinking of expanding their outdoor living area.
With composite decking, you can make a converted seating area and a garden room where you can sit and enjoy in your meantime. It's a beautiful method with a smooth texture with low maintenance, and high durability. You can also add a pool or hot tub and many more.
Composite decking maintenance
One of the most significant benefits that come with composite decking is that it does away with the burden of constant upkeep. If you use wood decks, they need to be re-stained, sanded regularly and power washed to maintain their appearance and beauty. But Composite decking doesn't require much effort, sanding, or re-staining. Even if you occasionally ash or restrain it, its colors never fade away or get dull.
In addition to that, wood decks also require anti-pesticides and metals in the treating process, preventing pests. But it is harmful to children and animals across. In competitor to that, the Composite deck doesn't require these harmful additives as it is naturally resistant to mold, decay, insects, and all.
Fiberon Composite Decking 
Trex Composite Decking 
Enhance Basics 
Enhance Naturals
Trex Transcend 

Wolf Composite Decking 
Wolf Perspective Decking 
Wolf Serenity Decking 

Timbertech Decking 
Edge Prime Collection 
Tier 1 Terrain Collection
Tier 2 Terrain Collection 
Reserve Collection 
Legacy Collection 
Harvest Collection 
Vintage Collection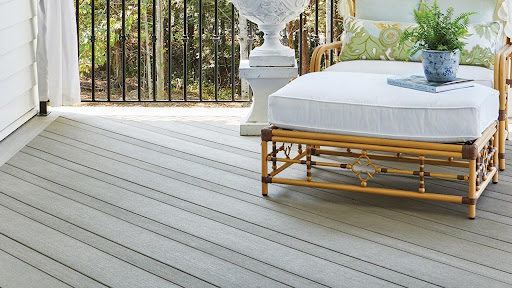 Landmark Collection
Clubhouse Decking 
Hardwood Collection
Earthtone Collection 
Deckorators Decking 
Voyage Decking Collection
Frontier Decking Collection 
Vault Decking Collection 
Voyage Decking Collection