Deck builders in Calgary performs numerous operations in a wider field of specialization. Their deck-building tasks vary widely and are mostly involved in turning designs into reality by overseeing the construction process.
Deck builders are responsible for assembling and extension of decks at home, they offer services like; maintenance services, composite decking, wood decks, reconstruction of decks, patio installation.
Types of Deck Materials
Calgary experiences extreme and varied weather throughout the year, so when it comes to deck building, quality materials are just as important as quality craftsmanship. From composite decking to weather-resistant woods, pressure-treated woods, hardwoods, plastic, aluminum, and more, Project Landscape is dedicated to using high-quality materials from industry-leading manufacturers. As Top Rated Local® deck builders in Calgary, our team can walk you through all of your options to help you choose the best materials for your needs. Read on to learn more about some of the deck building materials that are available for your project, and contact us today to get started!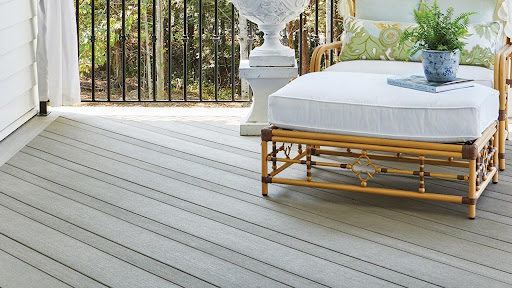 Composite Decks
Composite decking has become an especially popular choice for homeowners in Calgary who want to create a stylish deck that will stand the test of time. This premium decking material is available in a wide variety of colors and patterns and while the up-front costs are higher than traditional wood decking, you'll never have to worry about staining your deck or replacing splintering boards.  
Cedar Wood Decks
Project Landscape can create a beautiful, weather-resistant cedar deck that extends your living space into the outdoors. Cedar decks are known for their beautiful, natural appearance and their ability to stand up against the pressures of extreme weather, moisture, insects, and heavy foot traffic. 
Pressure Treated Wood Decks
Pressure-treated wood decks are a solid, budget-friendly option for residential decks in Calgary. You'll find that this material is quite a bit cheaper than the other decking materials that we offer at Project Landscape, but it still offers steadfast protection against dents, scratches, and other wear-and-tear, just over a shorter period of time. For more information about pressure-treated decks, contact us today! 
Plastic Deck Lumber
As one of the leading alternatives to traditional wood decking, plastic deck lumber is revered for its durability and low maintenance. This decking material is usually made of single-resin polyethylene, polystyrene, or polyvinyl chloride, but some plastic decking is made from recycled plastic, which makes it an attractive option for environmentally conscious homeowners. As a bonus, plastic decking never needs to be finished. 
Vinyl Decks
If you are looking to achieve a distinctive look, a vinyl deck might be the right choice for you. Like composite decks, vinyl decks are available in a wide variety of colors and finishes and are made from highly durable PVC materials that are built to withstand heavy use and harsh weather conditions. Vinyl decks are susceptible to mold buildup, but you can prevent that with a few simple washes each season.  
Kayu Hardwood Decks
Project Landscape is proud to carry the hardwood decking materials from the industry leaders at Kayu. Learn more about the benefits of Kayu decks by visiting our website, and contact us today to speak with a friendly and knowledgeable member of our team. 
Things to Consider When Choosing a Deck Builder
It's the dream of every house owner to have a great deck thereby enhancing optimal use of their outdoor space, creating a comfortable space for relaxation and entertainment of guest.
Your budget is pertinent to consider, identifying the amount you want to spend on your deck will aid the deck designer in suggesting the size and materials for the project.
Here are factors to consider before selecting a deck builder;
Proposed Project Samples
Gather sample pictures of how you want your project to look. This will help them to understand clearly the scope of work, pictures are good forms of expressing your desires, this will figure out your intents towards the proposed project in a clear and concise manner.   This also gives a perception if the budget corresponds with the proposed design.
Experiences
Evaluate past performances of the deck builder in Calgary, this can be done by having access to their testimonials, this highlight series of their past projects, their achievements, reputations, a visit to their clients can also be exercised, so as to know how competent the deck builder is.
License
The company License and insurance is important. Ensure that they are insured and have all the required license to obtain permits. You can carry out checks by seeking an insurance company to verify them.
Assessment of Quotes and Bids
Have a review of the quotes submitted by carrying out an interview with the deck builders to assess their competencies within your budget range.
Conclusion
Before hiring a deck builder in Calgary for your proposed projects, its crucial to clearly define the scope of the work and review the contractor's previous work carefully to make sure you'll be happy with your finished project.
If you have any questions about hiring a deck contractor in Calgary for your residential or commercial needs, please contact our team at Project Landscape today.