The beauty of your home doesn't end with your interior walls. Your home should be such that it can be enjoyed inside and out. We are here to enhance the outdoor experience for you. The Project Landscape team believes in offering you a deck option that can't be compared to another composite decking in calgary. No matter how big or small your project is, we can easily accept the challenge of deck installation.
We listen to your vision and help the vision to get converted to reality. We take all recommendations and requests from our clients so that you can love the final outcome of the project.
Why do you need composite decking?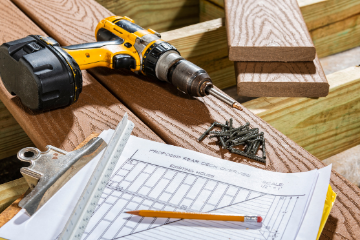 These days, wood is being replaced with composite decking as the best material of choice for outdoor space. The best part about composite decking is that it offers the needed durability, ease of maintenance, and lasting beauty to your project. You will receive all the beauty of wood, that too, without the hassles of upkeep.
High-performing composite decking can easily stand up to the weather and day-to-day wear and tear far better than wood. The best part about composite decking is that it is made up of recycled material. Thus, if you are an eco-conscious customer, you will like this option.
What are the benefits of composite decking?
Durable choice
Durability is one of the biggest factors that make composite decking in Calgary one of the most popular choices for homeowners. The composite deck boards are created in such a way that they offer maximum durability. The deckings are resistant to fading, staining, scratching, as well as mold attack. These options are also insect-proof and splinter-free.
Less maintenance
If you choose the composite decking option, you will never have to worry about sanding, staining, or painting. All you need is an occasional soap and water cleaning.
Aesthetic appeal
Most composite decking these days features high-definition wood grain patterns that are rich and saturated with colors. When you choose composite deckings by Project Landscape, you will get a beautiful look and feel. You will also get a wide variety of color options. From earthen tones to spicy red, you can get the needed aesthetic appeal for your decking.
Sustainable choice
You can get the look and feel of wood but without the negative environmental impact when you choose composite decking. Most deck boards we offer are made up of recycled material. For all environmentally conscious customers, composite decking can be the best choice.
Value for price
The starting cost for the installation of composite decking may seem higher. But, when you factor in the cost of maintenance required for wood decking, you will end up paying for that under ten years.
Bottomline
We have the needed experience and expertise in deck installation. Thus, if you are struggling with the installation of composite decks, you can contact us anytime. We have a specialist team and experience of more than 20 years in decking installation.