It's now hard to come past two houses without seeing those beautiful paver walkways. They are popularly becoming a way of life in many households because of their attractive touch and how well they blend with your landscape.
Last year we saw some gardening design trends that are still popular today. Though, in 2020 people want to design gardens that help them grow their own food, be more mindful and eventually help them beautify their compounds.
Though, we have challenges in landscaping trends simply because they shift slower than let's say fashion trends. Moreover, they still change with time as our lifestyle and interior designs changes. Besides keeping up with the upcoming landscape trends, implementing ideas like these doesn't need a lot of financial investment, like the costs of choosing a landscape designer.
In our homes, today, bricks are classic materials that someone can play around with and use some little creativity to establish an "out of this world" patio, driveway, or walkway design. Their color range also gives you endless opportunities for showing your creativity. With a wide range of color options, you can choose some unique designs that will fit your specific landscape style.
Paver Design Ideas for your walkways and driveways
Patio designs continue to change, and no amount of creativity is over the top. People are now opting for innovative landscape designs that are changing the paver's designs and many other aspects. Here are some ways that this is being achieved.
Patterns
People are getting creative with the way pavers are laid down. Today, there are several patio patterns that you can go for. Some of the best patio patterns that boost aesthetics include: Running Bond, Basketweave, Herringbone, and Diamond.
Colors and Texture
Landscapers and homeowners are also showing a growing interest in creating a tapestry of colors and textures on their driveway and walkways. Several years back, homeowners were using a single color throughout, which is not the case today. Now people can design using different colors on the same patio. The colors can be used to separate spaces such as a fire pit from the eating area.
Landscapers would also want to use different colors to separate a designated place from a walkway. Some people would use different colors on driveways and walkways to separate a place that is intended for vehicle parking and the one intended for pedestrians.
We have also witnessed a couple of changes and trends in the texture of pavers being used. Their texture can be used to create visual impacts on the walkways and driveways. You can choose a veined or rough surface to define a style and distinguish between natural and rustic and smooth textures of the paver. If used creatively, the texture of pavers can create a formal or modern style.
Border
It's essential to start using creatively designed borders to personalize the patio. Landscapers are creating boundaries in single, double, and even triple rows to make uniquely amazing designs.
Banding
Unlike Borders that can only delineate the edges of a patio border, this adds a pattern and a stripe in the middle of that patio. It can also be put across it to boost the appeal.
Some amazing Paver patio ideas
Geometric
For people that are inspired to make a bold statement on their walkway, this design in Houston Backyard is a good one. To make it a reality, Exterior Worlds Landscaping and Designs used natural stones and rested them on brick bases. It seems like it's floating, leading the people to a walkway around the pool. The bricks and the stones are made to contrast each other, making a fantastic look.
Border Detail
A stone patio in Wisconsin is elevated using a border of warm-hued brick. This design ties the patio in with the brick exterior and sets off a circular dining set on the water's edge. This is a design that you can try with your Calgary patios to make your backyard look great from up there and down here.
Ornate, Geometric Landscaping
Some of the popular interior designs such as basket, Chevron, Waves, and Lattice are finding themselves into landscaping. They are being used in the designs of a patio, Fire features, and, most importantly, on the paver stone walkways. This may sound complicated, but they are one of the best and popularly trending landscape options we have in 2020. Starting on, this can be a unique feature and a difficult task. If you cannot go around it on your own, your option would be to get a landscaping expert in Calgary to help you.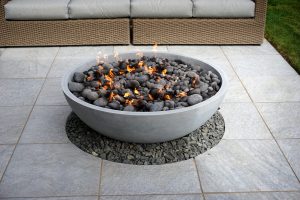 Circle around a Fire Pit
This design by Kingbird Design represents salvaged bricks that are laid around a central fire pit. It's a preferable trend because of its Mosaic-Like effect. The designer started by making a gravel base and eventually put the bricks on top of it. If you want to choose a paver trend, then make sure you work from the fire pit outwards. To give it a finishing border, use a single row of brick perpendicular to the circle's main pattern.
Reclaimed Bricks
Another San Francisco backyard appears to be a luxurious floor made using reclaimed bricks on a circular paver pattern. The team also salvaged bricks or cobblestones to construct a paving design that looks amazingly unique.
Using Flagstone
Stone pavers are very versatile, and they can be used in a million ways to make your driveway, and walkway unique and show your creativity. Today, the use of flagstone is trending in the Midwest region. This is admired for the varying color and texture. This means that someone can choose earth tone colors such as red, Grey, and Orange.
Rhythmic Pavers and Contrasting patterns
This is a prominent paver design that can make your landscape look amazingly good.  An example is a landscape in Matthew Cunningham's landscape design. This one looks like bands of blue bricks transecting a shirt gravel path in the landscape.
If you look at it closely, you will realize that the designer and the team used several brick patterns side by side. This trend has never been old, and you will see people in 2019 tried this design widely. It is preferably the best option to create texture and patterns in your backyard that is not loud.
Brick Spiral
This trend has been around with us for years now. One significant sample is in New York City. Looking at it here makes you think it feels like looking into a spinning vortex. It is also made to look like the spiral of a shell.
If you have chosen this for your gardening needs, arrange bricks in a concentric circle one by one to blend with the organic curves that were initially created. This creates an eye-catching experience and a uniquely unexpected design for your garden. One big challenge is that implementing such a design can be challenging to you, especially if you don't have enough information. In that case, a Calgary landscaping expert is your only left option.
The teams of experts that designed and implemented this paver stone walkway are as knowledgeable to make pavers that appear cute and interesting when viewed on aerial positions or from the ground. They never disappoint.
Pavers looking like wood
For your walkway, using pavers that look like wood is another big idea. Though, this trend is very new in the market. People are using wood grain plank pavers to create an all-natural look on their walkways. Because this is a very new trend in the world of landscape, it's going to give your home a unique and beautiful look.
Paver driveway with snow melts system.
This type of design is for those people that cannot shovel snow during the winter. If you fall into this category, then you may consider paving stone driveways with this feature. The climate in Calgary also calls for some sophisticated designs to deal with the harsh wrath that comes from water and snow. This driveway trend may be costly and more advanced to implement because of the snow melting feature. Consequently, consider an expert in landscaping that is knowledgeable with the Calgary landscape to help you.
Patterned Walkway
For homes with a paving stone traditional walkway, this is one good idea to add some visual interest in it. One unique thing about this trend is the use of Gold patterns and slate-colored pavers. The designers wanted to pull the grey color out of the wall with this information to the pathway. This one was designed by Mom's design Build-in Minnesota yard.
Pavers that looks like stone
If you had time to follow your local home television show, you would easily notice that use of pavers looking like stones is becoming popular each day. For homeowners looking for a traditional all-natural look, the use of pavers that looks like stones, including slate and flagstone, is a nice idea.