Modern landscapes are often characterized by clean straight lines, streamlined walkways and an uncluttered appearance. It's a landscape where symmetry and geometry are the key elements. There are basically no curves and even the plants if any are placed in a neat row. It's actually also considered as a formal type of landscaping in Calgary.
A modern landscaping play by the more is less rule. It's understandable that people barely have time to maintain a demanding yard or garden. This is taken into account. The most important part is usually the materials used.  The design focuses more on the aesthetic appeal of the home rather than having plants or flowers. Plants will still be present but they are kept to a minimum. The main concern is with crafting sleek patios, concrete paths, carefully placed water features and steps.
Pergolas
A pergola fits into almost any type of a landscape and can be an invaluable addition to contemporary landscaping. Modern pergolas are stunning to look at considering all the work that goes into it. Both metal and wooden accents are used but the most common is wood.
Many people opt for a pergola as a shade structure that enhances the outdoor living experience. It can be attached to the house or constructed separately. In most cases, the modern pergolas are minimalistic with more attention given to creating straight lines and right angles. Some are constructed with roof louvers that you can open and close as needed. This way it provides shade when the sun is hot or during drizzles.
Pergolas are not just meant to be shade structures. They can also be entertainment areas.  For instance, it can frame an outdoor hot tub or a barbeque area. Opt for materials that are highly durable.
Modern paving stones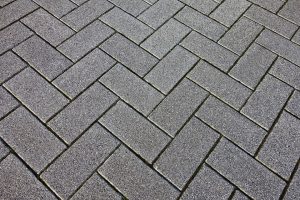 The modern pavers are mostly made of concrete, angular tiles or cut bluestone. These are materials which will easily create symmetrical and right angled shapes. Remember, geometry is key in this landscaping and there is no room for error.
Brick is rarely seen because it does not fit well in the modern concept. This is probably due to the color variations and its organic appearance. The walkways are bold and can even create some sort of a focal point. You can opt to fill part of the yard with concrete so as there is less work done in terms of maintenance.
The appropriate plants
The main concern of modern landscaping is low maintenance and uniformity with the design. Mulch is largely used to prevent weed growth and conserve water.  If you need some plants on the landscape, choose the ones that don't require regular pruning. Also, you wouldn't want a tree that will drop thousands of leaves on the walkway or outdoor space.
Container plantings are very common. They are more suitable for a symmetric space and can easily be moved around. All plants are positioned in straightforward geometric schemes rather than rounded lines. On the other hand, the lawn is designed to frame gravel flower or plant beds and walkways. The colors are simple but a bit of texture is welcome.
Do not mix so many plants. Two types are enough for a modern landscape setting. Notable examples of plants include bamboo, mountain laurel, boxwood, Japanese maples and ferns.
Water features
While a water feature can be incorporate in any landscape, it takes a focal point in contemporary landscaping. If there is a busy street nearby, adding water feature will work to buffer the noises from outside the home.  Ponds and pools are made in rectangular or square shapes. Anything curved spoils the authenticity of a modern landscape. A fountain or a waterfall can act as a focal point. Keep in mind, there are so many ideas for awe inspiring water features for the modern landscaping.
Fencing
Every home requires a fence for the sake of privacy and to keep the critter out of your property. For a very long time, people used wood and at times metal for fencing. However, with the growing technology, there are better materials which also come with many benefits.
Have you heard of vinyl? It's the main competitor of wood and has earned a soft spot in the hearts of many. Majority of people want something that is durable.  Wood has its popularity but vinyl fencing beats it pants down in terms of long service life.
Another significant benefit of vinyl fencing is that it needs almost no maintenance. Wood has to be treated and stained to keep it in perfect condition. On the other hand, vinyl is strong enough to withstand the harsh weather, insects and decay. The essence of modern landscaping is going for the alternatives that cut down on maintenance. This is exactly what vinyl fencing is all about.
Landscape lighting
It's good to enjoy the outdoor living spaces both day and night. That's why landscape lighting is essential. It gives you room for entertainment and to do some activities outside in the evening or nighttime. Additionally, a properly lit landscape creates both ambience and beauty.
Contemporary landscape lighting features straight lines and immense attention to detail. For instance, if you have floating steps running through the garden, you can place lighting underneath. Furthermore, there should be lighting placed strategically on the water features to illuminate them. This way, they can be seen at night too.
Use lighting on the planters too. In some cases, this not only makes the surrounding beautiful but also illuminates the walkways that have planters lining them. Also, installing lights on the steps is a good idea since you watch your steps and avoid accidental falls. If you have a swimming pool, consider lining the sides with some lights especially when it's close to an entertainment area.
Basically, lighting ideas for a modern landscape are endless.  You can get creative and even add a dramatic touch where needed. With that said, choose LED lighting since its energy efficient and tends to last longer.
Creating a perfect modern landscape is not a mean feat. There is so much detail involved and it's easy to get overwhelmed with all the information and ideas at your disposal. Luckily, Calgary landscaping is here for you providing the best landscaping services around.