Rustic landscaping is designed not to follow the rules and instead take on a naturalistic look. This means allowing moss to grow on the pathways, using materials such as wood and stones, and adding carefully thought out water features. Basically, rustic landscaping derives its inspiration from nature and hence creates more of a country feel.  Some people would even prefer to pick a location near a lake or mountain just to emphasize the serenity and privacy that this kind of landscape has to offer.
As much as a rustic design is mostly surrounded by raw nature, you still have to pay attention to detail. For instance, the rocks should be appropriately positioned, water features, if any, should be carefully positioned and pathways created to reflect the nature around us. In all honesty, it's nothing complicated but professional will do you more good than harm. If you have been yearning for a cozy rustic design for your home, get the best of the best from Calgary landscaping.  Remember to follow your heart and let the designs you choose to replicate your personality. Here are a few more ideas to get you started on the rustic landscape of yours dreams;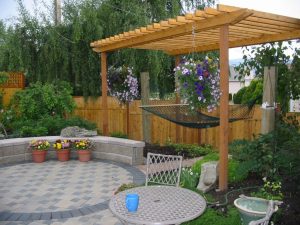 Rustic pergola
Pergolas are an awesome addition to any backyard and certainly transform any plain landscape into an amazing outdoor living space.  One of the supreme reasons why you should consider a pergola for your backyard is it serves as a supporting structure for climbing plants.  This can be a perfect way of enhancing that natural characteristic.
With a pergola, you have a variety of options at hand. For instance, you can decide to have it free standing or attached to the house.  Most of the time, pergolas are used to add an aesthetic appeal to a backyard or garden.  The focus is not so much on providing shade and shelter especially if it's a rustic pergola.
A wood pergola is considered most suitable in rustic landscaping.  Keep in mind a rustic setting is supposed to imitate nature and nothing does that better than wood. With that said, there are different types of wood. Cedar wood has gained so much popularity and many people are now using it for their pergolas. Not only is it gorgeous but also naturally insect resistant.  Therefore, you won't have to worry about the wood getting destroyed or eaten away by insects. Also, cedar pergolas have a longer service life.
Rustic fencing
Fencing is necessary for any backyard or garden.  With that in mind, you will require a rustic fence that will outline the perimeter of the backyard or home garden. When deciding on a fence, it shouldn't just be for privacy or to keep the critters out of your way. A rustic fence is supposed to be designed in such a way that it will bring about a serene environment and at the same time maintain an aesthetic appeal. Also, you can decide to go for a simple and minimalistic style depending on what you have in mind.
In this case, the most suitable material for fencing would be wood. Any kind of wood does the job but if you want a gorgeous fence that you will be gazing at for years, go for cedar fencing. One person might ask, what is so special about cedar fencing? The answer is pretty straightforward; it ages like fine wine.
The water features
One of the best things about rustic landscaping is it allows you be creative with everything that you do. The water features are among the things that will portray the creative side of you. Whether it's just a small pond or a waterfall, there are numerous ideas at your display. If your aim is to have a calming environment, a slow flowing waterfall is ideal. Use natural rocks to create the waterfall and even around it.
There is the option of going for a pondless waterfall. The choice of having a pond or not depends entirely on what you want and also the budget. Other than a pond, you can form a small stream that runs through the garden or backyard. This is all what a country setting is about. Make the most out of it.
If the waterfall has a pond area, use gravel, river rock and pebbles inside it. This way, when the water runs over the small stones in the pond, it produces a soothing sound. A lot of work and detail goes into the making of an outstanding waterfall. For instance, the rocks you choose have to be suitable for the landscape and the kind of rustic setting you want. If you are facing trouble with this, get professional help from Calgary landscaping experts.
 Paving stones
The paths and walkways are the signature areas on any rustic landscape. Also, this is where you get to play around with different shapes and colors to come up with something unique and outstanding. For instance, people with a hilly yard may opt for a stone stairway.  The sides of the stairway should be laced with various plants to create contrast.
There are basically many types of pavers. Limestone is perfect for those people who are thinking of a stone walkway. It's not only long lasting but also can be cut into juts any shape or size to meet your needs. It serves well for a garden path. Other natural stones appropriate for paving include cobblestone, bluestone and flagstone.
Another thing is that stone walkways or paths can be done is such a way that they embrace imperfection.  This means that you can use stones of different shapes, sizes, textures and colors. However, such an idea involves immense care and thought to come up with a worthwhile design.  Consider a meandering garden walkway or path. When you are taking a walk in the garden or backyard, it's refreshing to simply slow down and take in the beauty and tranquility that the surroundings have to offer.  This is basically the purpose of having a winding pathway.