Enhance the quality of your living space outdoors with the best pergola in Calgary providers.
Do you have a deck or patio? Do you want to give it a visual appeal? Or perhaps you need space to add those potted plants. You can, as there is one easy solution to add a pergola. The structure is simple and can transform your yard into something magnificent you will love. For some, it looks like an uncompleted structure built with beams, while others know it is beneficial to have. So why should you have a pergola Calgary provider install one for you? Find out right here.
The Benefits of Having a Calgary Pergola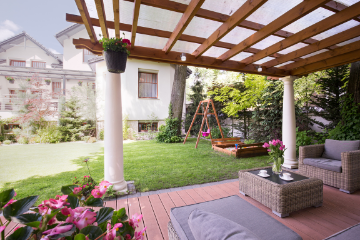 Project Landscape can provide you with many reasons why you should consider having a pergola set up.
Create a Defined Space with Privacy
A pergola in Calgary adds definition to any backyard creating an entertainment lounge or even a dining area. Furthermore, if you enjoy privacy while sitting outside, it creates privacy by adding latticework, screens, or drapes on the side.
Add Additional Space
With the added garden space, you can place your plants, making them the focal point in the garden. You can even create a tropical feel with vining plants creating a natural ceiling, making you feel as if you are in a paradise.
You Get Protection from the Elements
With the help of a Calgary pergola provider, you can protect yourself from the summer heat outdoors. With a natural roof of plants, it instantly turns your place into an outdoor lounge where you can relax. You can even get an optional canopy to close when needed.
Add Value to Your Property
You can add up to 20% more value to your premises if you have an attractive landscape. Compared to having a gazebo, a pergola is affordable and adds immense value to any property.
Combine It with Other Structures
The best thing about using a pergola provider in Calgary is that they can combine it with other structures in your yard. For example, you can utilize it with your gazebo or a veranda. The pergola transforms into an entrance to your pavilion. The pergola is a versatile structure that stands well with other facilities or on its own.
Add Beauty to Your Property Today
So, where can you find a pergola provider to help beautify your place? You can find one right here! Project Landscape can help you set up one to add hanging pots, curtains, elements, and lights to create a magical outdoor living space. No matter what you use your pergola for; we can help to provide you with one.