I do know for a fact that we all love having a beautiful garden or yard in our homes. Creating that breathtaking landscape at your space can be a daunting task for sure. This does not mean that it is impossible. All you need is some inspiration and proper information on how to put any landscape design of your choice into action. At Calgary landscaping, you get all the professional help that you need when it comes to landscaping. There are so many landscape design ideas and trends that are fast becoming popular this year. To put you in the know, I have compiled some of the best landscape design trends for 2019.
Resort style living. The perfect staycation
The truth is many people wait until the end of the year or during the holidays so that they can go on a vacation. What you do not know is that you can create a resort like experience right there in your backyard. This is what is called a staycation. Instead of waiting in the long lines at the airport or having to deal with packing all the time, you can just have a vacation at the comfort of your home. The best part of a staycation is you can have it any time that you want. Additionally, it will save you a lot of money that you would have spent in travelling and staying at a hotel.
So how do you go about creating resort style living there at your home? There are many ways that you can do this. Here are some ideas on how to turn your home backyard into a luxury staycation resort;
Resort style living in your own backyard
The backyard is the perfect space for a staycation. During a vacation it is important that you have fun and also relax. The best place to do this is outdoors. There are a couple of things that you can do so that even as you have a staycation at the backyard it feels more like you are at a resort.  Here are some features to include in your list;
Have an outdoor kitchen
This is for those people who love cooking. You can have an outdoor kitchen installed at your backyard. An outdoor kitchen actually creates an open space where you can have fun and enjoy some quality time with your family and friends. During the summer, cooking in your main kitchen which is inside the house can be quite a bummer. This is because it's already hot, so the heat coming from the ovens makes things even more uncomfortable. On the other hand, cooking outside means that you won't have to deal with heat as there is flow of fresh air all around you. It can also be a relaxing moment for you since you can cook and at the same time enjoy the outdoors. If you like pizza, you can have a pizza oven installed in your outdoor kitchen.
Add some water features
Whether it's a swimming pool or a water fountain, adding a water feature to your backyard is a good idea when it comes to creating a staycation. A swimming pool takes your backyard landscaping to a whole new level. This is because there are so many features that you can add to your pool that will not only make it feel like a resort pool but will also make the surrounding landscape appealing. For instance, you can have a waterfall grotto at your pool. A waterfall grotto is typically a cave like structure that is covered by a waterfall. The water from the waterfall flows back into your pool. The hideout or cave can range from a small space to an expansive area with other added features such as lights, seats or even your own spa. The idea behind having a waterfall grotto is to create that relaxing water sound that gives you the feeling as if you were on a tropical island. Other features that you can add to your swimming pool include a swim up bar, a spa or even a tanning ledge.
Another important water feature is a fountain. If you really don't like swimming that much then a fountain can be your relaxation nook. There is nothing that brings your mind at ease like the sound of bubbling and flowing water. In addition, fountains come in various sizes and prices to suit your needs.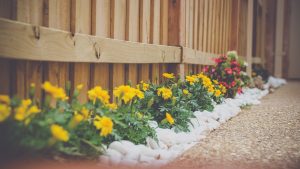 Landscape lighting
Who said anything about having to spend time outdoors only during the day. If you are going to relax outdoors in the evening then you will need some lighting. There are many ways that you can go about it. If you have a swimming pool then having a multi colored LED lighting will add a dramatic effect on both your pool and the landscape around it.
You may also opt to have an outdoor bar that has lights installed on it. This means that you get to spend as much time as you want outside. Go for a lighting option that best suits your needs and lifestyle.
Install a fire place
At times it can get cold in the evening. However, this should not stop you from carrying on with your staycation. This is where the concept of a fireplace or fire pit comes in. These serve as an area where you can gather with your family or friends and do a fun activity like roast marshmallows. Installing a fireplace is a brilliant idea if you asked me. Not only can it serve a decorative purpose but it is functional too. If you want to go for the more affordable option then a fire pit should be your choice. You can install it anywhere and it does not need a lot of space. It will light up the night the same way a fire place will do.
Growing greens; Vegetable and herb gardens
Growing greens in your backyard or garden is one of the trends that are catching up quite quickly this year. This is probably due to the many benefits that come with it. There is no need to buy vegetables at the groceries when you can grow them right there at your home. The best part of edible landscaping is that you get fresh vegetables and herbs any time that you require them.  You only need to take proper care of the plants so that they thrive. Additionally, you have to decide which vegetables and herbs you want to grow in your garden or yard.
Another thing that you have to put in mind is maximizing on the limited space that is available. Just because you really don't have much room around your landscape does not mean that you cannot do edible landscaping. What you have to ensure is that the plants receive enough sunshine and water so that they can grow well. Similarly, choose plants that will be able to grow on your landscape. This means that you should already have considered the type of soil and climate conditions.
You can grow vegetables such as tomatoes, onions, artichokes, garlic, eggplant, beans and peppers. There are various ways that you can plant your vegetables. For instance vegetables like lettuce can be planted in between the flower beds. If you want to create an aesthetic appeal then it wise if you choose the vegetables that are bright in color such as red-jewel cabbage. If you don't have enough space to plant vegetables in either your yard or garden then you can grow them in pots. The pots can be placed anywhere including on the windows provided the plants receive the sunshine that they need. Other options to choose from include planting vegetables or herbs in containers, hanging baskets and window boxes.
When you are planting the vegetables it is important that you do not interfere with the curb appeal of your landscape. Do so in a manner that your garden or yard still looks appealing. In this case you can plant both the ornamental plants and your edibles in one space. Also look at the size, color, shapes and the different textures of the edible plants. Remember, the plants are not only for food but should also make your landscape attractive. You may want to opt for colorful vegetables such as the rainbow Swiss chard. The colorful stems of this vegetable will bring that aesthetic appeal on your landscape and at the same time you have edible greens.
When it comes to herbs the most prudent thing that you can ever do is going for the perennial herbs. This is because perennial herbs come back each year and you won't have to go through the stress of wondering what to do with an empty space in your garden. Some of the best herbs to grow include rosemary, basil, parsley, sage, oregano, thyme and lavender. The herbs that have strong scents are usually appealing to animals so you might want to consider ways of protecting them. When it comes to rosemary and lavender you can simply plant them as a flower border. Rosemary also makes for a great hedge for your yard. Since thyme is a low lying herb, you can use it as a ground cover.
You can never run out of ideas to growing edible vegetables and herbs in your home. If you have a balcony on your apartment or a patio in your home then you are good to go. All you need is a pot or a container and you are able to grow your own food. Garden beds too can be used to grow your vegetables and herbs.
Separation in landscapes
When you are at home you require an area where you can spend time outdoors. This year there are so many trends and ideas that take your outdoor living to another level. One of the key trends is the separation in landscapes. This is aimed at creating an outdoor space that is more like your indoors. There are various ways this is achieved including installing decks and patios.
Decks
A deck adds quite a lot of value to your home.  It can be an outdoor living space where you can do your cooking, relax and entertain visitors. If you want an all year round deck then you should consider having a shade structure installed. This means that you can spend time outdoors any time that you want regardless of the weather or season. Similarly, you can have an outdoor kitchen on your deck and even have a dining area. In this way, even when you have some visitors you can spend time outdoors and have your meals right there.
Patios
A patio is typically an outdoor area just next to the house. A patio may be covered to protect people from harsh elements or it may be freestanding without any shade structure. It can be decorated with some plants and there is also outdoor furniture where people can enjoy some outdoor time.
Seating area
Take you outdoor living a notch higher by creating a seating area where you can entertain your guests or have some quality time outdoors. Typically, a seating area will accommodate several people.  A seating area may also include a fire pit or a fireplace for warmth during the cold seasons. You can have it anywhere ranging from your garden or yard. Having a seating area in your garden is the perfect opportunity for you to relish the beauty of your garden as you spend time outside the house.
Natural stone and paving stones
Stone landscaping is one of the popular landscaping trends in 2019. There are so many options for you to choose from depending on your style. Similarly, the type of stones that you choose should be suitable for that specific area that you intend to have them. For instance, the best stones for walkways are the small ones so that walking can be easy and avoid tripping. You have an option to choose from the paving stone walkways and the natural stone walkways. Both have their advantages and what you have to do is go for what works best for you.
Paving stones are made from concrete and come in various sizes, shapes, textures and colors. Some people may prefer the paving stones because they may be easier to install, less expensive and are versatile. You can get the paving stones that will match your style and meet your needs.
On the other hand, there is the natural stone that is typically cut from the real natural rocks. Natural rock pavers are usually made of travertine, slate, flagstone or limestone.
You can opt to have either a paving stone patio or a natural stone patio depending on your style. Since paving stones come in different shapes and colors they may be a great option if you want to decorate your deck. They are also a good choice because they can withstand the harsh conditions outside and are long lasting. If natural beauty is your style then you can select the natural stone patio designs.
Smart water irrigation
You need enough water to keep the plants in your garden or yard vibrant and healthy.  One of the top trends this year is edible landscaping and this means that you have to ensure your plants receive the water that they need.  If you have flowers, shrubs and trees you have to make sure that they are watered on a daily basis especially if it is not raining. Sadly, many people don't have that much time to water their plants on a daily basis. The concept of smart water irrigation solves this problem. Calgary irrigation will provide you with the best smart water systems for your irrigation.
Smart water irrigation systems do not just sprinkle water on the plants in your garden. The water systems are designed in such a way that they conserve water. This means that you use less water on irrigation. The smart irrigation systems are equipped with advanced technology in such a way that they monitor the amount of moisture and automatically adjust the amount of watering to the required levels.  The technology used may be one that monitors weather conditions such as rainfall and temperature or one that monitors the amount of moisture that is present in the soil. Smart irrigation that is weather based consists of sensor hardware and a controller. The sensor is placed either on a building, a fence or an object on the yard. There is wireless communication between both the controller and the sensor.  Moisture based irrigation systems work by measuring the actual content of moisture that is in the soil. The time of irrigation is then based on this. If the soil is dry the irrigation system waters the plants until enough amount of moisture is in the soil. It will stop watering when the moisture content is too high. In this case, if you want that beautiful green lawn or an appealing landscape smart water irrigation is the way to go.