There are many landscape design trends that are popping up this year. The key trends all aim for the same purpose which is making outdoor spaces better and enjoyable. To put you in the know I have compiled everything you need to know about landscape design trends for 2019.
Low maintenance landscaping
We all love having beautiful gardens, polished walkways and magnificent flower beds outside our homes. In spite of all this, it doesn't mean that everyone likes spending their time and energy maintaining gardens and yards. This is where the idea of low maintenance landscapes comes in. Calgary landscaping will come to your rescue and ensure that you get the garden of your dreams. You don't have to spend time worrying about weeds and the grass growing tall. Here are some of the best low maintenance landscaping ideas;
Rock gardens
So many people are turning to rock gardens and leaving behind the typical gardens full of plants. The reason behind this is that they are totally low maintenance while at the same time keeping up the curb appeal. There is a lot that you can do with a rock garden. You can decide to put decorative rock to make the garden look more attractive.   The rocks can be of different sizes and should be visually appealing. On the ground all you have to do is cover that section with tiny pebbles or coarse sand. This type of a garden will not encourage the growth of weeds. Additionally, it does not need watering. If you want to have a few plants, the best choice ought to be the drought tolerant ones.
Clover instead of grass
Grass requires so much attention and care. For those people who don't have that much time to trim tall grass, you can opt to have clover as your ground cover. A clover lawn has many benefits that cannot be found in a grass lawn. For starters, it is drought resistant. This means that you can go for weeks without having to water your clover lawn. Similarly, clovers do not allow weeds to thrive that easily. This makes them low maintenance.
Artificial turf
Artificial turf is simply artificial grass. While it is popularly used in football fields, lots of people are using it as an alternative to grass in their yards. Not only does it require little maintenance but it is also low cost. You don't need to water it and it adds the most appealing landscaping effects to the area.
Mulch
Mulch is definitely an unsung hero. There are so many benefits that come with using mulch in your garden. If you haven't tried it yet then you really don't know what you're missing. Mulch discourages the growth of weeds in your garden landscape. You will not have to deal with weeding every now and then. Additionally, it prevents the evaporation of water from the soil. This in turn keeps water in the soil for a longer time. Aside from that, it adds on to curb appeal. The landscape looks more beautiful with the uniform color and texture that is added by the mulch to the ground surface.
Taking your indoor style out the back door
Most people like spending their free time relaxing outdoors. In this case, how do you make your outdoor living match your indoor style? You may be that kind of a person that likes luxury. It doesn't mean all that is nice and cozy should be for the indoors. You can take it outdoors. At Calgary landscaping you get all the help that you need in order to make your outdoor living a success.  Here are some trends for this year.
Personal retreat garden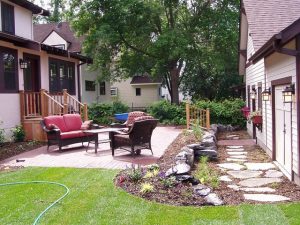 We all go through difficult and stressful moments. During times like this all you need is just somewhere quiet where you can relax your mind and unwind. You can create your own personal retreat space right there in your garden or backyard. What you have to do is to have the right design in mind. A design that will suit all your needs. The area should be secluded and surrounded with flora to bring into effect the serene environment required for personal retreats. It's supposed to be your own haven of peace where you just relax and enjoy the warmth of the sunshine. You can opt to include a small water feature such a fountain. There is that soothing effect that is brought about by the sound of water. This makes meditation easier and effective. You only have to connect with nature and watch your stress levels go down. The best part of it all is that it can be right there in your backyard.
Outdoor kitchens
Outdoor kitchens are mostly built with the sole purpose of entertainment. Mostly if you have guests or want to have a barbeque with friends then an outdoor kitchen is what you need. An outdoor kitchen takes your meal time moments to a whole new level. You can cook and enjoy the sunset at the same time. Depending on your style, you can have any type of a kitchen installed whether it's an L-shaped or U-shaped one. An outdoor kitchen may be installed on a deck, patio or screened porch.
Outdoor bathrooms
A bathroom should not be restricted to indoors only.  Actually an outdoor bathroom is an investment that you will be more than happy you made. After a long and hard day, you can take time to rejuvenate in your outdoor bathroom. It gives a spa like experience. If you haven't tried taking a shower or bath outdoors then you definitely don't know what you're missing. Once your try it, you might even forget about the bathroom that's inside the house. You can have your outdoor bathroom in the backyard, garden or it can be an extension of your indoor bathroom. There are various options for you to choose such as hot tubs or a bath tub with a shower area. This is definitely a trend that is catching on quite fast.
Composite decking
Composite decking is fast becoming popular in the market as an alternative to wood. It mainly consist a mixture of wood and plastics. The reason as to why so many people are going for composite decks is because of low maintenance and durability. If you want to get some of the best composite decks, Calgary decking will help you with all of that.  So why choose composite decks over the regular wooden decks. Wooden decks require constant care. If you are a busy kind of a person getting time to care for a wooden deck can be a problem. This makes the composite decks the best option for everyone out there.
For starters, composite decks do not need frequent painting. This is because they actually don't fade the same way wood does. A composite deck remains as good as new for quite a long time. The materials used to make the composite decks are resistant to molds, mildew and insects like termites. This is definitely another load off your shoulder. You won't have to spend money taking care of such damages.
The truth is composite decking costs more than wooden decks. However, it will save you maintenance costs in the future. For instance, when it comes to a wooden deck you will have to treat it to prevent things like warping. On the other hand, composite decking does not require this and you can therefore spend your time doing other important things.
Cleaning a composite deck is quite easy and simple. All you need is soapy water and a brush with soft bristles. Occasional cleaning will keep it looking beautiful and polished.  It's actually something that will not last you a whole day doing. With a little bit of effort, you will be all done. Additionally, composite decks do not require harsh cleaning agents to keep them spick and span. Cleaning is required at least on a semiannual basis. Composite decking is obviously the way to go if you want to spend less time worrying about your deck.
Landscape lighting
There is nothing that adds beauty to your landscape like lighting. It is the icing on the cake. Brighten up your landscape with Calgary lighting. The Calgary lighting provides you will all the lighting options that are most suitable for your outdoor décor and landscape. The beauty of your landscape should not just shine during the day but also after dark. Most of the time lights are installed along the walkways for safety purposes. Similarly, they showcase the beauty of the landscape. There are various landscape lighting ideas. Here are some options for you;
Patio lighting
The patio is an outdoor area that requires lighting. It is usually used as an area where you can sit and relax while outdoors. Many people decorate around the patio with plants and put some outdoor furniture there.  Since it is an outdoor living space, lighting serves more than just illuminating the space. It also brings an aesthetic effect on the patio and the surrounding landscape.
Deck lighting
There is a lot that comes with deck lighting. Not only does the lights make the area safe but also allows you to spend time outdoors during the night. You can actually have a party or barbeque right there at your deck in the evening. There are quite a number of lighting options for your deck. Go for the lighting options that enhance the appearance of not just your deck but also the landscape around it. For instance, you can opt to have candle lanterns on your deck. These will illuminate the deck and landscape too.
Walkway lighting
Installing light on the walkway is always a good idea. Aside from illumination, the surrounding area is brought to life. When it comes to walkways, many people are going for solar powered lighting. Little maintenance is needed and the best part is your walkway will be lit even when there is a power outage.  There are lots of options to choose from when it comes to lights including light posts. All you have to do is to choose what works for you and matches your style.
Pool lighting
Pool lighting is a one of the popular trends this year. While entertaining guest or having a party people can comfortably swim in a well-lit pool. Additionally, lighting up your pool has such a magnificent effect on the landscape around it. You can have lights under the water or go for elevated posts.
Porch lighting
A porch is like an extension of the house only that it is outside. Having lights on the porch will make time spent outside an enjoyable experience.  Go for lighting options that brighten up the area around so that as you spend time on the porch you also get to enjoy the beauty around it. There are quite a number of lighting fixtures to illuminate your porch. Some popular ones include fan lights and pot lights.
Highlight trees
Highlighting trees is one of the best ways to bring things to life even after darkness sets in.  It truly adds that dramatic effect to your landscape. Depending on what you want, there are various ways you can highlight a tree and get your desired effect. For instance, if you have large trees in your surrounding landscape you can put a source of light up on the tree. The light is then aimed down at the branches and the ground under. It creates quite a fabulous effect. You can use spotlights or floodlights among others.
Shade structures
As you enjoy some quality time outdoors you will want it to be as enjoyable as possible. Nobody wants to deal with the hot sun or avoid being outdoors just because it's raining. That is why shade structures are important. Whether it's a deck or patio it's a wise decision that you include a source of shade while designing. There are people who just want to have an alone time without any disturbances. This is where the privacy screens come in. They not only offer privacy but also protection from the heat of the sun. This definitely takes outdoor living to a whole new experience. Here are some of the common types of shade structures;
Pergola
A pergola is typically a freestanding structure. It can be used on an outdoor space such as a deck, patio or even a walkway. It usually has a solid roof and the sides are open. If you want something that offers cover from harsh weather while at the same time allowing in some fresh air and breeze, then a pergola should be your ultimate option. A pergola can be used to cover a deck especially when its major purpose is for entertainment. If you have an outdoor kitchen or dining area on your deck you might want to have it covered by a pergola.
Patio covers
The only difference between a patio cover and a pergola is the fact that a patio cover is attached to the house. A patio is a space where you can spend time reading a book or drinking a cup of coffee. That is why installing a shade structure in this case is really important. You want to have a good time outdoors while at the same time be protected from harsh elements such as extreme sunlight. Many people opt for solid patio covers. This is mainly because they can withstand sunlight, rain and snow.
Shade sails
Shade sails mostly offer protection from the sun. Shade sails are made from cloth material that is strong and can block the UV rays from the sun. The cloth or fabric is then stretched across poles in such a way that it covers that specific space. It can be used as a shade structure for your swimming pool, patio or even a part of your garden. There are professionals who can install shade sails to suit your preferred style. They are available in different shapes, colors and sizes.  All you have to do is to choose.
Screened porches
A porch is like a part of your house only that it is outdoors. It can serve as a space where you enjoy the environment outside and have a breath of fresh air. Screened porches are fast becoming popular because people just want to have privacy. No one wants to deal with an uninvited neighbor when they are spending some time outdoors.  It is also an outdoor living space that can be used no matter the time of the year whether its summer or winter. You can even have a dining area right there on your screened porch. There are so many things that you can do with your screened porch to improve your outdoor experience. For instance, if it is a large space you can decide to have a fireplace installed. The fireplace will come in handy on those chilly winter days. If you want to add a touch of luxury include a rug and some throw pillows.