Deck Railings
Generally, deck railing is the last part of a deck anyone considers when planning a new deck build. Deck railing serves as an important function of your deck, ensuring safety for family and friends. Designed not only to bring safety, but also for esthetic purposes. Often homeowners will search for a solution that complements their landscape, exterior of their home or pool.
Services
Decorative

p

ost caps

Topless

glass railing

Wind

and

p

rivacy

r

ailings (5′ and 6′ high)

42″

picket and glass railings

Urban

and

criss cross r

ailing

s

ystems

Fascia-mounted

p

icket

and g

lass

r

ailing

Composite railing

Cedar and pressure treated
Deck Railing and Safety Requirements 
The most obvious benefit to deck railing is safety. The city of Calgary and surrounding areas require that decks above 30 inches must have railing. As per Alberta building code, stair railing must be 36 inches or higher, deck railing must be 42 inches.
Aluminum railing: 
Aluminum railings are the best maintenance free option. They are the premium solution to your deck, porch or steps for budget minded homeowners. All of our aluminum picket, framed glass and topless glass are custom built to fit your deck and they meet and exceed the quality standards and safety demands.

Framed Glass Railing:
When choosing framed glass railing, you are getting a durable low maintenance product. You're also adding value and elegance to your property. We offer a variety of power coated color options that gives you a sleek modern look to your deck, patio or pool enclosure. Framed glass is the next step up from aluminum picket railing that fits into any decking material. It gives you a much better view than picket styles and can actually make your deck appear larger.
Topless Glass Deck Railing
Frameless glass railing is designed to maximize your view without sacrificing the durability. Topless glass railing replaces the obstruction of the top rail in the perfect way to finish off a modern design deck trend. The glass panels come in 5 foot sections that are 10mm thick and give the option of 5 different tints to choose from.
Topless Glass Railing Post Colors:

Windwall / Privacy glass:
Glass privacy panels are the ideal way to create privacy, while offering a modern look. The aluminum frame comes in a variety of color options, holds up to extreme weather conditions, requires very little maintenance and has 6mm thick glass with a rain, velour and pinhead finish.


Pressure treated & cedar railing:
Homeowners are looking for a more classic look when selecting cedar or pressure treated railing. The elegance of wood railing can be unmatched when incorporated in the proper landscape; another added benefit to cedar or pressure treated is that the rail can be custom built to virtually any style design.
Composite railing:
Composite deck rails are perfect for outdoor use. They exceed the maintenance challenges of wood, glass or aluminum rail, there durable and don't rot or split. Their long term performance and attractiveness makes them the crown jewel for any deck, porch or pool side installs.

Celebrate your view with a Cable Railing system 
This unique system offers home owners a whole new approach on exterior railing design. If you're in the process of extending your outdoor living space with a new deck or looking to replace your existing railing, you should be considering cable railing. The incredible transparency with extremely low maintenance makes this railing system the optimal choice.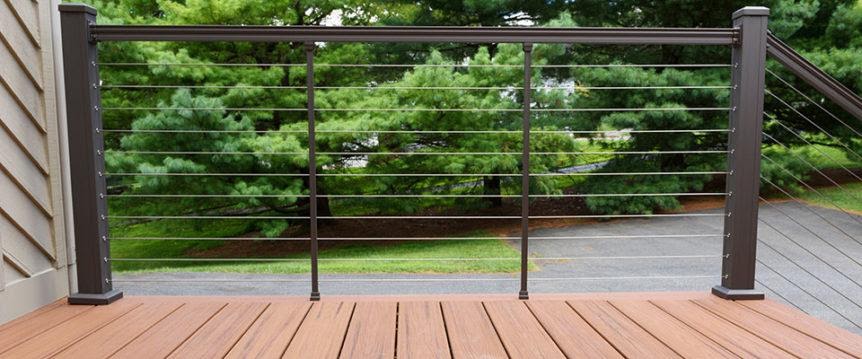 Benefits of Cable deck railing 
Maintenance free: Doesn't require the upkeep that's associated with wood or glass railing
Panoramic view: Allows you to take full advantage of your landscape and the scenic views that surround you.
Durable: Stainless steel rust proof hardware that holds up to harsh Calgary winters.
If you're interested in learning more about deck railing, we'd love to hear from you and answer any questions you may have, when you're ready, please don't hesitate to contact us.