Residential concrete services we provide in Calgary
Project Landscape is a full-service concrete company in Calgary that specializes in decorative concrete. We have a great reputation built on providing quality services to our customers. Our design team at Project Landscape will work with you closely to create a functional and beautiful design to enhance your outdoor space.
What sets us apart from other Calgary concrete contractors?
Project Landscape is your premier concrete contractor through-out Calgary and surrounding areas. We take great pride in the start to finish process on all our installs. We install our re-bar every job 18" or on center, our base is compacted to a 96% compaction rating, sauna tubes are installed where needed to give our customers a long lasting finish. Our detailed approach towards the base preparation to the finish work of the concrete ensures Calgary home owners that every possible measure is taken into account before the initial pour of the concrete.
---
Services:
Exposed concrete
Broom finished concrete
Stamped concrete
Colored concrete
Patios
Driveways
Sidewalks
Retaining walls
Garage pads
Hot tub pads
Concrete removal
Exposed Concrete:
Over the course of years, exposed aggregate concrete has become a trendy choice in Calgary. It is because the normal grey-colored broom finished concrete may not appeal to homeowners. Exposed aggregate concrete is actually a decorative version of normal concrete. It is most commonly used for making concrete patios, concrete driveways, and concrete walkways. It is so different from the normal broomed type of concrete that it uses a combination of stone, sand, and pebbles. These are further than used for making different decorative patterns and designs. To bring out the beauty and finish in the designs, the exposed aggregate concrete then undergoes the process of seeding.
The reason why exposed aggregate concrete has become so common is because of its reasonable price. A Calgary contractor can help make driveways, patio, or walkway for your place. The concrete's surface is further enhanced by using decorative rocks, crushed glass, and even quartzite. Some Calgary concrete contractors even strip the fresh concrete's surface to expose the aggregate that comes mixed with concrete. 
Different styles and patterns of exposed concrete give you the freedom to tailor your landscape the way you want it to make it appear more aesthetically appealing. There are two major differences between exposed concrete and normal concrete. Firstly, it has a top layer that is protruding from the surface. Secondly, normal concrete has only one color that is grey. While in exposed concrete, you can choose from the different decorative aggregate options. 
The variety of different options of exposed cement to choose from allows you to customize the surface type in a bespoke layout. Moreover, to add a further decorative element, the cement used to hold the exposed concrete together can be tinted. Also, in exposed concrete, you can choose from the stone and add polished pieces of glass to beautify the surface further, giving it a shiny and glossy look.
Installation of Exposed Concrete is very much like normal concrete. The only difference comes when the surface is partially cured, Calgary concrete contractors use water along with sand blasting to remove some parts of the cement. It is an essential step, as it helps in making the protruding surface of the Exposed Concrete.
The temperature variation of Calgary is also a significant factor when making patios, sidewalks or driveways. After winters, when the snow starts to melt, normal concrete's porous surface absorbs water. It can cause internal stress and cause it to expand, causing the surface to become weak and prone to cracking. Another reason for exposed concrete to be a common choice is its excellent weather resistance.
Even in Calgary's extreme weather, the Exposed Concrete surface area won't crack, crumble or shear away, unlike normal cement. Moreover, you will not face any problem related to spalling since normal cement cannot endure any pressure and tends to lose its appeal with time. In case you want to increase the durability of your exposed concrete surface area, it would be best if you get it sealed after every two years.
Broom Finish Concrete:
Among the different concrete Calgary finishing procedures, the broom finished concrete surface is a very popular choice, especially if you are looking to beautify your concrete patios, walkways, driveway, or wall stairs. When it comes to concrete finishing, broom finished concrete is an affordable option you can choose from. It is not a new finishing procedure; in fact, Calgary concrete contractors have been opting for the broom finish concrete method for a long time. 
Broom finished concrete is also known as brush finished concrete. It is a process where a broom or a brush is used to create a textured surface area on the concrete. This texture gives good resistance to slipping. It is the reason why Calgary concrete is usually broom finished. When the ice starts to melt during winters, there are many issues regarding the drainage of water. 
The textured broom finished concrete helps to divert the water towards a drain, improving your drainage system on the whole. It not only makes your landscape beautiful, but it also makes it safe. You will not have to face any unwanted accidents as a result of slipping. It is the reason why many patios, pools, and spas have a broom finish concrete work. 
Even if the surface area is moist or wet, the broom finished concrete ensures maximum security. 
Another great thing about broom finished concrete is that it enhances the durability of the surface area. In areas that have the maximum amount of traffic. The texture of broom finished concrete surface will increase the traction in comparison to a stamped concrete finish. Also, it requires very little or no specific maintenance. 
You can even use the broom to create different attractive patterns on the sidewalk. It means you can easily make any design pattern that goes well with the entire landscape. In comparison to a smooth finish, a broom finish is rather easy to install. 
The broom-finished concrete has impeccable weather resistance. But sealing it on a regular basics increases its durability and longevity. It is a very practical and functional option that you can choose. Moreover, to make your landscape more aesthetically appealing. You can even add different color dyes and tints to enhance its overall appeal. Plus, broom's unique patterns and designs finish concrete work to increase the value of your landscape. 
Generally, broom finished concrete is done in outdoor areas of your landscape. It is because it works to beautify and make the area of your landscape more appealing to look at. In addition, broom finished concrete gives you an excellent grip even in the moistest areas. So, if you are looking to make your area skid-resistant at a reasonable cost. In that case, we recommend you get broom finished concrete on your landscape as it offers multiple benefits compared to normal concrete finishing. Since broom finishing isn't an easy task to do yourself, it is a better option to use the Calgary contractor's help to install a broom finished concrete more professionally.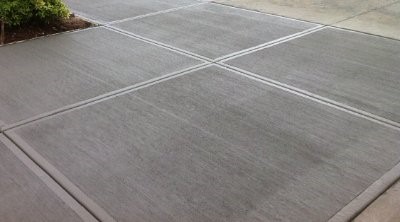 Stamped Concrete:
The finish you pick for the surface of your patio, walkway, or driveway helps determine how aesthetically pleasing it will look. You want something stylish and decorative and reasonable and robust at the same time. It is the reason why people opt for stamped concrete. Project Landscape has the best concrete contractors that use great quality materials. Let us further understand why stamped concrete is the best choice for finishing the different surfaces in your landscape.
Variety of choices 
The amazing thing about stamped concrete is that it has a limitless number of stamped concrete designs to finish the area of your landscape. It is available in different colors, textures, and patterns that you can use. Moreover, it can even replicate other kinds of surfaces, like marble, stone or even weathered lumber. Moreover, getting a stamped concrete finish is a cost-friendly option. It will beautify and increase the overall value of your landscape by adding a stylish and decorative touch.
Installation
The installation of stamped concrete is a very tricky process. It may seem fairly easy at a glance. People think that the installation of stamped concrete is only about mixing, pouring and stamping. But, it is not so! Because of how easy the installation process may seem, there is enormous room for error, especially if you do the process yourself. You need to have the perfect mix of cement powder and water. Adding too much water to the solution can make it runny. While adding too little water can cause problems like cracking or bulging. So, it would be best to use concrete contractors' services to add a professional touch to the stamped concrete surface. 
Longevity
A stamped concrete surface is very durable, ensures longevity and use for an extended period. Moreover, it has minimal maintenance, and it is straightforward to clean a stamped concrete surface. Plus, you don't face any problems related to stamping in stamped concrete. That's why you don't need to spend additional costs to get it repaired or sealed. It is an excellent choice for the different weather conditions of Calgary. Even in high traffic areas, stamped concrete won't buckle in or sink under pressure if installed correctly. So, if you are looking for a hassle-free and cost-friendly option for surface finishing on different areas of your landscape stamped concrete design would be the best choice.  
Low Maintenance
Stamped concrete requires very little or low maintenance to keep it in its best shape. It is the main reason why people opt for stamped concrete surfaces for finishing different areas on their landscape. Compared to other finishing materials, stamped concrete is a very budget-friendly option since it saves all the additional costs relating to repair and maintenance. To clean a stamped concrete surface, all you need to do is to run a broom over to clean all the debris and dirt settled on it. Besides, if you want your stamped concrete surface to last for a lifetime, increase its functionality. You can opt to get it sealed periodically.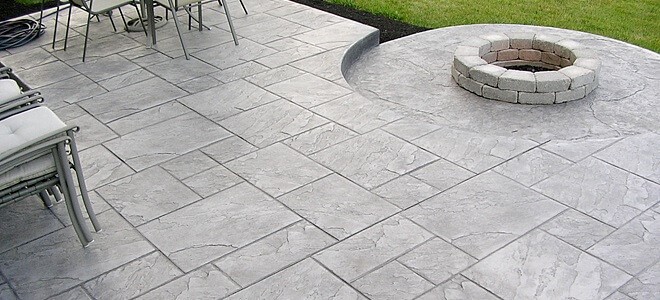 Colored Concrete:
Moving with the latest developments in the era, people have stopped using traditional grey concrete and consequently, colored concrete has taken its place. Basically, colored concrete is grey concrete that is dyed with different colors and stains. It is the most flexible construction material available in the construction industry that has endless decorative uses. It is easy to use as conventional concrete but comes with added benefit since it can be colored in your desired option.
The idea to color concrete by adding iron oxide dates back to the early 1950s and up till today, it has been widely used in manufacturing industries. The forecasted growth in concrete construction means that the usage of colored concrete will increase in near future. Usage of colored concrete is a little bit expensive than standard concrete but the final outcome will make your work stand out.
The first question that comes to your mind is that how concrete is colored? Do we spray it? Or do we use paint? So basically we do neither of these. In fact, we use iron oxide particles. These pigments can be in granular, powder, or liquid form and each one of these has its advantages and disadvantages. The grain of iron oxide particle is ten times smaller than the grain of cement so when we add a sack of colored iron oxide pigments, they just cover up the cement grains and it then gives colored concrete.
With boring, outdated grey concrete designs people have moved on to aesthetic colored concrete designs. It is a great option to create an artistic presentation of concrete. Large concrete patios and concrete walkways are usually covered with colored concrete to give them a better look than they would appear with grey concrete. Moreover, you can use an endless variety of colored concrete in sidewalks, pool deck, and garage floors.
There are various key benefits of using colored concrete. Durability of concrete makes sure that it lasts for years to come that too with little maintenance. Therefore, colored concrete on your floor is cost-effective as it would rarely require any maintenance.
Moreover, color consistency is another benefit that makes colored concrete a viable option to select. Along with the wide variety of color options to select, the colored concrete is dyed in such a manner that each batch produces the same exact colors and gives a similar tone to the whole design.
Colored concrete can be molded into any shape and can be used to produce any texture and design. Hence it gives you the freedom to create whatever you want.
You should also know some essential points to keep in mind while taking care of colored concrete. Firstly, colored concrete should be cured properly to prevent surface cracking. You need to know that it can fade due to exposure. Therefore, make sure to have a professional Calgary concrete company so that they can have it protected with a clear sealer.
Concrete Patios and Walkways:
Adding a concrete walkway or patio or replacing your existing one is a great way to improve your home and boost your homes resale value. As a reliable and professional concrete contractor that specializes in concrete patios and walkways, we make sure our entire projects have the proper compaction and the proper guidelines are followed to finish the project right the first time. All our walkways and patios are installed with the proper slope to avoid any water damage to your home.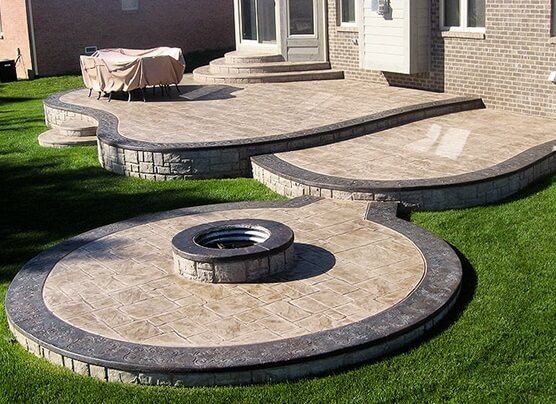 Concrete Sidewalk:
If you're looking to install a new concrete walkway or replace your existing one, Project Landscape can help.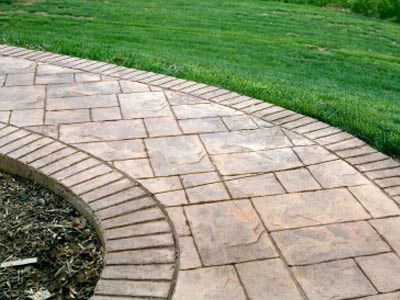 Steps and Staircases
Concrete steps and staircases are some of the most prominent features at any house's or public buildings' entryway. The construction of Concrete steps and staircases is wholly based on the design, foundation, support, framework, steel reinforcement, pouring of concrete, and finally, removal of the framework.
Concrete steps and staircases can be constructed in different designs, colors, and formats. More significant visual impacts of actions and staircases are possible by the combining of decorative stairs with stamped or stained concrete walkways and landing with coordinating colors and patterns.
We provide you with the best service; our contractors would not only make Concrete steps and staircases for you but also offer your entryway and staircases with some fantastic designs which can be colored and textured to match your house. You can give your ideas and strategies to our team, and we begin narrowing down your decorative options.
Concrete Driveways:
Driveways require routine maintenance and are typically not something homeowners think about, until they are in need of major repairs. Most commonly at this point the remove and replace option is the best solution. Many homeowners chose to go with standard broom finish for the reason of cost and durability.
Concrete Retaining Walls:
Concrete retaining walls are highly rated for their strength and versatility; no doubt, they require a precise construction method. Poured concrete retaining walls can be textured, colored, accented with embedded objects, different designs, and many more. With all these high levels, when appropriately installed, concrete retaining walls material provides you with much more room for customization than any other material.
Most of the contractors in areas of heavy rainfall or weather extremes avoid finely poured concrete work and look for a challenging shortcut. Which indeed goes along with being a failure. When a concrete wall fails, it gets a crack. It's all over. You surely can fix that, but not for too long. Project landscape works on the importance of skilled concrete individuals, and the concrete, which itself has to be tamped nicely to support the wall.
Our expert team will do all the major work for you, which includes the construction, fitness, and design. We provide the best work in the meantime with no shortcuts giving your walls a fantastic concrete retaining look.
Concrete Garage Pads:
A concrete garage pad is a slab of cement in a square shape that serves as a foundation upon which the whole garage's structure will be built. Its construction process includes preparing bases, placement of reinforcement, pouring, erection of framework, finishing, and curing of the concrete slab.
As the weather in Calgary is quite challenging, especially in the winters. If a concrete slab is not constructed correctly, especially according to the ideal pouring months, winter, and frost, it can indeed cause troublers for the slab.
Project Landscape has been working in Calgary and serving it for quite a time. Our crew is well-trained, and we don't use any shortcuts while pouring the concrete, which later the customer discovers a crack that could have been prevented. That's where Project Landscape comes in; we work with professionalism with our trained team—providing you with the best service with fantastic design and strength.
Concrete Parking Pads:
Parking pads are most commonly put in place for home owners that aren't able to build a garage due to community architectural controls. A lot like a garage pads, these are poured starting at 1 4 inch thick slab, with 10mm rebar that's 16 inch on centre.
Hot Tub Pads:
We can pour in stamped, colored concrete, exposed or broom finish depending on your preference. We suggest staying with regular broom finish, as the other types can become quit slippery when wet. All of our concrete installations on hot tub pads, rebar is installed with a 6" slab to avoid any cracking.
Concrete Removal – Call the clean as you go company:
If you're looking at having your concrete patio, walkway or driveway removed, look no further. Our concrete removal prices are based on access, how thick the concrete is the amount of concrete that needs to be broken up and removed and the strengthening products used, such as how much rebar or mesh. On all tear outs safety is our main concern. In most cases depending on where the concrete is that needs to be removed, we call underground utility locates so we don't create larger issues.
Contact us for your free concrete estimate
If you're looking to install a new concrete walkway, driveway or patio, don't hesitate to call and set up an appointment for a free estimate.
Contact Us For Your Free Estimate!