Residential concrete services we provide in Calgary
Project Landscape is a full-service concrete company in Calgary that specializes in decorative concrete. We have a great reputation built on providing quality services to our customers. Our design team at Project Landscape will work with you closely to create a functional and beautiful design to enhance your outdoor space.
What sets us apart from other Calgary concrete contractors?
Project Landscape is your premier concrete contractor through-out Calgary and surrounding areas. We take great pride in the start to finish process on all our installs. We install our re-bar every job 18" or on center, our base is compacted to a 96% compaction rating, sauna tubes are installed where needed to give our customers a long lasting finish. Our detailed approach towards the base preparation to the finish work of the concrete ensures Calgary home owners that every possible measure is taken into account before the initial pour of the concrete.
---
Services:
Exposed concrete
Broom finished concrete
Stamped concrete
Colored concrete
Patios
Driveways
Sidewalks
Retaining walls
Garage pads
Hot tub pads
Concrete removal
Exposed concrete:
Exposed aggregate concrete can be a great contrast with broom finish, providing a granite look for your outdoor walks, patio or driveway.
Aggregate concrete is created by spraying the surface of the concrete away to reveal the stone that is below.
Broom finish concrete:
Broom finished concrete is the most affordable cost option when it comes to concrete. The surface is durable and provides high traction. Broom finished concrete is most commonly used for walkways, driveways, patio and retaining wall stairs.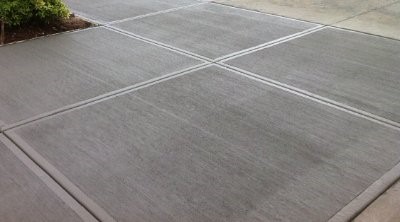 Stamped concrete:
The most appealing out of the different types of concrete. Stamped concrete is compared to brick pavers for patio and walkways. With the numerous stamp styles and colors the choices are endless.
Stamped concrete is poured and then stamped for the brick or tile look. The color dye is mixed in with the concrete before installation giving you the look of a paving stone walkway or patio.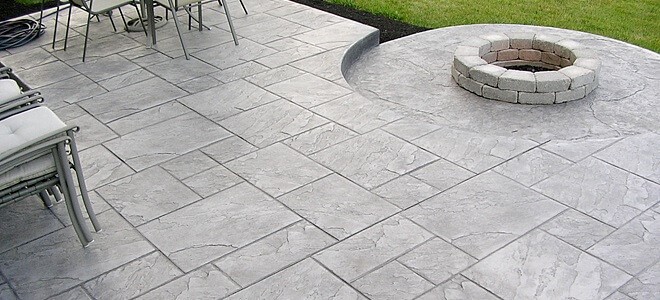 Colored concrete:
Colored concrete is an excellent choice for patios, walkways and driveways. With the many options of coloring, Calgary homeowners have the option to match their existing interior of the home. Coloring concrete is most commonly used for a border around a broom finish, exposed or stamped walkway or patio
Concrete patios:
Add a stamp, broom finished or exposed patio to your backyard landscape. With unlimited designs, colors and patterns it's the perfect way to enhance your entertaining area.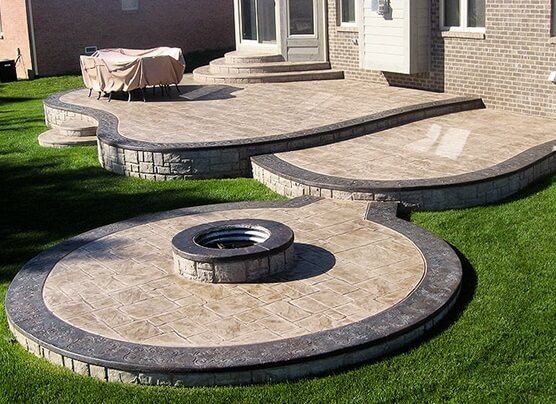 Concrete sidewalk:
If you're looking to install a new concrete walkway or replace your existing one, Project Landscape can help.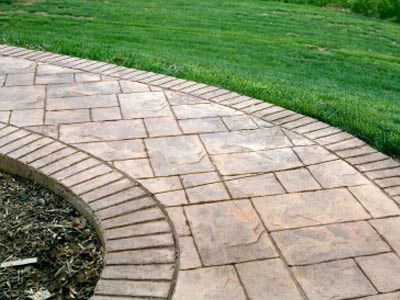 Steps and staircases
Concrete steps can withstand all types of Calgary weather conditions without rotting like wood and last for decades without needing repair.
Concrete driveways:
One of the most used parts of your property
Concrete Retaining walls:
Concrete walls can serve the same purpose as manufactured or timber retaining walls, but provide homeowners a more contemporary look.
Concrete garage pads:
We are Calgary's top concrete installer and provide the highest level of quality in all our concrete installations. Leave it to Project Landscape to take care of your next concrete garage pad.
Concrete Parking pads:
Add extra parking to your home with a concrete parking pad. We take careful precautions when installing with extra rebar to gain the strength for multiple vehicles.
Hot tub pad:
A hot tub pad requires a good base to prevent uneven sink age and damage to the bottom of the spa.
Concrete removal:
Need your concrete driveway, patio or walkway removed? Call the clean as you go company.
Contact us for your free concrete estimate
Call today and one of our concrete experts will be happy to meet with you to go through your concrete design, color options and patterns for your property.
Contact Us For Your Free Estimate!