Looking for snow removal in Caglary? Winter is coming soon and we all know what that means. Winter weather comes with a lot of snow and ice that will cover your entire commercial property. As a matter of fact, heavy snow can wreak havoc on your property and put a halt on your business. Removing it on your own is definitely not easy and will take you a considerable amount of time. Furthermore, it's dangerous and people can easily slip on it and fall resulting in fatal injuries.
Snow Removal in Calgary
You don't have to stop doing business just because its winter. What you have to do is find the best commercial snow removal company. Snow removal Calgary is one of those companies that you can trust. They are reliable and get the job done on time. It is the company that will meet all your needs and demands.
You don't wait for snow and ice to be falling down from the sky before you start thinking of hiring a commercial snow removal company. You might think winter is still some months away. However, time flies and before you know it, it will be winter already.  Starting the process of looking for a contractor at that particular time will be extremely overwhelming. For this reason, you have to start early, way before its winter.
This will give you plenty of time to sit down with the snow removal contractor in Calgary and plan ahead. They have to know the best way to manage your commercial property. Snow and ice management Calgary is what you need in this case. The reason why is because they identify which areas on the property have to be given the top priority.  Months before the winter season begins, the contractors conduct a site inspection to determine which areas may be hazardous and should be given more attention. In addition, they familiarize themselves with the entrances to the property.  This way, even when the whole place is covered with heaps of snow, they know how to access it.
To make your commercial property winter ready, you have to find a good commercial snow removal company. This is never an easy task because you might end up with the wrong people who will only disappoint you. Remember, it's in the best interest of your business that the customers feel you care about them and their safety. Not clearing snow and ice definitely does not give a pleasant impression. Also, if there are any accidents or falls on your property as a result of uncleared snow or ice, you will be held liable. Therefore, avoid all these liabilities by getting the services of commercial snow removal Calgary.
Keep Your Property Safe With Commercial Snow Removal
Without the services of a reputable commercial snow removal company, snow storms can wreak havoc on your property and affect your bottom line. Freezing temperatures, heavy snowfall, and ice build ups can have a disastrous impact on your daily operations and expose your employees, clients, and visitors to an unsafe environment that you are legally responsible for. 
Commercial snow removal is critical for businesses that want to reduce property hazards and minimize company downtime. Contact Project Landscape to work with a local company you can trust. 
The Dangers of Amateur Snow Removal
Everyone in Calgary knows someone with a snowplow, but amatuer snow removal can wind up causing more harm than good. With the heavy snowfall, low temperatures, and harsh storms we experience in Calgary — and everything that's at stake for your business — you need to hire a professional snow removal company to ensure the job is done right. Project Landscape has the resources, equipment, and expertise to keep your property safe and your business running smoothly. Don't hire just anyone for your commercial snow removal needs. Get in touch with us today to get started! 
Strategic Commercial Snow Removal in Calgary
Commercial snow removal is a strategic process that needs to be executed according to the unique layout of your property and the needs of your business. The experienced team at Project Landscape takes the time to understand how snow and ice can affect your day-to-day operations so we can create a plan that's tailored to your property and addresses all of your concerns.There's no job to big or too small for our snow removal company. Get in touch with us today to speak with a friendly and knowledgeable member of our team. 
What's Included in Our Snow and Ice Management Services?
Like any good commercial snow removal company in Calgary, Project Landscape can provide you with a custom plan that meets your needs. Here are a few of our most popular services that can be included in your snow and ice management plan:
Snow Plowing and Shoveling 

Snow Hauling and Stacking

Deicing Treatments

Loading Dock Clearing

24/7 Emergency Services
Don't be caught unprepared when the next big storm hits. Learn more about our commercial snow removal services in Calgary, and get in touch with us today to find the best solution for your business!
Since in-house plowing services and snow removal may not be that effective, you will have to hire professionals. So how do you go about this? I have the perfect solution for this. Ask yourself all the right questions. Here are some of the questions that will help you find the best snow removal services for your commercial space.
What to Look for in Commercial Snow Plowing
Where Will you be Putting the Snow?
Where the snow will be put is important and you actually have to plan in advance. Most people put the pile of snow someone inside the parking lot. If the parking lot has ample space, then find a safe spot where the ice and snow can be put. The snow removal contractors will identify the ideal spot for this. Mostly, it will be a place where melting water from the snow can easily drain off from the parking lot.
Also, the snow should be put where it does not take up parking space. Keep in mind, people will still be using the parking lot and hence this should not get in the way. In addition, snow should never be put in a place where it blocks access to your building.
Another thing is you will require enough space. Remember, the winter weather can be a bit unpredictable. The area might experience more than one snowfall or even a snowstorm. Therefore, there should be plenty of space in the area that it will be put.
So what happens when you actually don't have a place to put the snow after it's plowed? In case your area experiences multiple snow falls, you will need a robust snow removal company that provides snow relocation. This is the kind of company that offers services in getting rid of ice or snow from the site after plowing. Such services normally include a skid steer and a dump truck to carry the snow from the site. Make sure your chosen contractor provides this service in their package because you never know when you will need it.
Will you Perform any Follow-up Treatments?
Follow-up treatments should never be underestimated because they are actually crucial. It is not enough for the snow service company to arrive at your business property, plow the snow and heap it somewhere. They have to re-inspect the property the day after a snow storm has occurred.
In extreme winter conditions, the temperatures drop to freezing levels at night.  This means that even if the snow was packed somewhere and it melted, there is a good chance you will wake up in the morning and find it refrozen into ice. This is where the snow removal company comes in. They have to make a follow-up especially after a snow storm so that they can take care of such situations. Icy conditions for your business are very dangerous and will be the cause of accidents or falls. They have to come back and handle such hazards which may have occurred overnight.
What Kind of Equipment do You Have?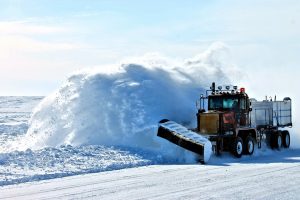 Every business owner holds their business with high value. The winter season does not mean down time for you. As a matter of fact, you should be operating as usual in every season. Since your business is important, you have to be meticulous with the kind of equipment a snow removal company is using.
Get a snow removal company that is ready to be up and running any time. They should be using advanced and state of-the-art equipment. The equipment should be efficient in plowing and removing snow or ice. It will be unfortunate for a customer or employee to get hurt because the service company did not effectively get rid of snow or ice.
Furthermore, the machines should be in good condition and ready for use whenever they are required.  Snow fall and storms are not predictable and if the equipment is still in the shop, you will only get delayed services. Well, time is money and you are running a business here.
Typical equipment used for snow removal are trucks with blades at the front that plow large amounts of snow and at a faster rate. Others include snow blowers, deicing machines, shovels and trucks with rotary brooms. Mostly the type of equipment used will depend on the snow removal needs and also the size of the commercial property. Large properties call for bigger and more efficient tools.
Ensure all the equipment uses good quality attachments and commercial grade machines. In addition, the snow removal company should inspect them regularly to make sure they are in excellent condition and are working well. Also, ask if they have any back-up machines. In case of an issue and the current machine breaks down, then they should have another one to replace it in the meanwhile. You don't want to be left stranded and frustrated.
How do I Communicate with you During a Storm?
Ease of communication is everything especially during a storm. Hire a snow removal company that provides proper communication any time of day and night. They should be super responsive to emergencies.
The first thing to do is learn about their communication methods and if these are effective. Never be that person who feels you can't reach out to your snow removal contractors. There should be ample communication more so during heavy snow storms. Typically, most snow removal companies use emails and phone calls as their main communication methods before and after a snow storm or snow fall.
The least they can do is send you emails with updates of when they will arrive to clear snow or ice for a snow event. This saves you the stress of wondering when they plan to do this. A reputable snow removal company will always provide its customers with an updated schedule.
During unexpected snow storms, they should be easily reachable and get to the site in due time. The team of professionals has to be contacted with ease and dispatched immediately so that they handle the situation promptly. If you cannot reach your snow removal company quickly, you might be forced to prematurely close down your business. On top of that, both your customers and employees will get stranded on the premises. This should give you an insight of just how easy communication is vital.
Do You Provide Melting Services?
People often forget about melting services. However, they are just as vital as snow removal and plowing. Melting services help to prevent snow from turning into ice. The snow in the parking lot, sidewalks and walkways can easily freeze into ice overnight.  Harsh winter conditions such as freezing rain can cause the snow to freeze into ice. For this reason, you should consider combining snow removal services with the melting services to keep your commercial space extra safe.
Find snow removal contractors who also provide melting services and products. This will not only ensure the safety if your business premises but also give easy access to both your customers and employees.
Do you provide Emergency Response?
A reliable and reputable snow removal company should offer round the clock emergency services. The winter weather is quite unpredictable and you never know what will happen the next minute. In this case, you will need a company with emergency response service.
The commercial snow removal company should have a team of professionals on standby and ready to take off on short notice. This is important for the smooth operation of your business and the safety of everyone. Round the clock emergency services mean that your business does not have to close down because of a snowstorm or unexpected harsh weather. Also, this will put the business one step ahead since you will not lose your customers.
What is Your Turnaround Time?
Turnaround time should always be the main concern. The worst thing that can ever happen to your business is a commercial snow removal company that is slow when it comes to timing. Therefore, make sure you inquire about the turnaround time especially after a snowfall or heavy snow storm.
Their response time should at least range from one to about three hours. Furthermore, it's crucial that they keep time. It will not be proper if the company promises to arrive within an hour only to show up two hours later. Your employees and customers are not supposed to find piles of snow lying around. This will definitely slow down your business and I don't think you want that to happen.
Do you have Proper Insurance?
If you live in areas that experience winter conditions, then you do know for a fact this is not a good time to be outside. The weather can be extremely harsh and treacherous.  So when everyone is stuck indoors, the snow removal company will be out and about. This is why they must have the required insurance to cover them just in case they encounter a problem or an accident occurs.
The insurance covers both you and the company. For instance, if a chunk of ice accidentally shoots through your front and even destroys some things in the building, this will be compensated. It is referred to as liability insurance.
It is mandatory for the commercial snow removal company you hire to have proper insurance. In fact, ask that they provide a proof of their insurance coverage. Avoid the snow removal services that lack coverage. Otherwise, you will have to pay for some costs yourself.
What to Look for in Snow Removal on Pedestrian Walkways
The snow in the pedestrian walkways and the driveways has to be removed. There is nothing that will give you more peace than waking up in the morning and finding the walkways professionally cleared. Ensure your snow removal contractors do a good job at this because it's typically what customers and your suppliers will notice first. A sidewalk or driveway heaped with snow will for sure discourage people from stopping by your commercial premises. Discuss with your snow removal company the methods they will be using to get rid of ice and snow on the walkways.
Use of Snow or Ice Melts Products
Typically, many people opt to use ice melt products to get rid of snow and ice on the walkways. There is a wide variety of ice melt products in the market however not all of them are safe for the concrete and landscape. Inquire about the kind of ice products that will be used by the contractors. Some of them can significantly cause damage and wear out the concrete.
Sodium chloride is commonly used to melt ice on roads and pavements. The only problem with this chemical is that it's harmful to the plants on the surrounding landscape. Once it melts the snow, the sodium left behind can find its ways to the nearby plants. It draws moisture from this vegetation and causes it to dry up or die. Furthermore, it's very corrosive to the surfaces. Make sure this is not the ice melt product being applied on the pavements.
In addition, ice melt products should not be applied in large quantities. These are all chemicals and when used the wrong way they will still cause corrosion on the surfaces.
Drip Zones From the Roof
The ice that forms on the roof of the building is another obstacle that has to be dealt with. There is no guarantee that an ice dam won't form on the roof and prevent water from the melting ice to drain. For this reason, have the contractors check the roof too and take care of any ice dams that might have formed on it. Remember, if an ice dam is not properly handled water might leak into the building and damage the wall or ceiling.
When looking for a snow removal contractor, it's a good idea to find out if they take care of other areas such as the roof. Keep in mind, the snow will be deposited everywhere and not just on the pavements, parking lots and the surrounding areas. Do not forget the building and most especially the roof where most of the snow will be deposited.
Mostly, it's difficult to get rid of ice on the roofing. The easier way is to create drip zones that allow the water from melted ice to drain off the roofing.
Shoveling
Some areas experience heavy snow falls. In this case, shoveling can also be a good way to keep the snow at bay and clear the walkways.
Conclusion
Commercial snow removal companies can be of huge help during the winter season. They will keep your business open and running throughout the entire time. Not to mention the peace of mind that you will have by just knowing there is someone taking care of all the snow in your commercial space. Try snow plowing Calgary and you will actually be impressed with their services. They have a team of professionals who will meticulously clear out snow from your business premises.