Irrigation & Water Management
Irrigation:



Project Landscape is the leading lawn sprinkler installer in the landscape industry for Calgary and the surrounding areas. We understand that a major component to maintaining a healthy, lush landscape is the necessity for proper watering. Project Landscape brings quality and affordable irrigation systems to Calgary residential and commercial properties. Controlling water is an essential
 part of maintaining a beautiful landscape, and a well-designed irrigation system will provide the assurance that your landscape is kept in good health.
We design our systems to allow for precise watering and overlapping coverage to eliminate dry spots. The system can be programmed and adjusted with head to head coverage to provide the proper amount of water in each area of your property. Not only does this save money through reduced water usage, but it also helps to protect your investment.
Call us for a free quote and discover how truly affordable Project Landscape can be. Our standard package exceeds most installers' premium installs!
Sprinkler System Installation:
Installing a new irrigation system doesn't only help your landscape in Calgary's dry summer, it's also a good return on investment. Project Landscape will carefully design your system to complement all the areas needed on your property. We will take the time to ensure you are properly educated on how to run the system effectively and efficiently.
Sprinkler System Repair:
Project Landscape offers audits and repairs to sprinkler systems. We recommend that you order this service at least once per year. We will run through each zone for proper coverage, adjust sprinkler heads, adjust running times, and make sure your timer box is in good standings. Project Landscape also offers our smart water system that's more efficient on water, which can help you save money and make sure your landscape investment gets the right amount of water.
Services:

Irrigation system installation
Custom irrigation system design
Major repairs
Service packages – Spring start up, winterization, system inspections
Additions to existing systems
More Information On Our Irrigation Services
---
Drainage
Drainage is one of the most important aspects of landscaping and also is one of the most often overlooked. It is just important as proper watering. Excessive moisture can lead to a multitude of problems, such as loss of plant material and turf, disease and insect problems, damage and rutting from the lawn mower, and compacted soil and water damage in your home which can lead to thousands in repairs. Let the pros at Project Landscape make sure you have proper drainage.
Some signs of poor yard drainage include: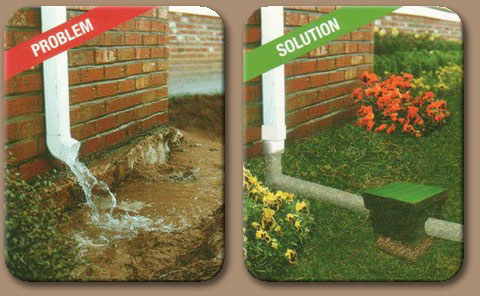 Standing water or puddles in the landscape or lawn
Plants that are yellow, wilted, or appear unhealthy
Discolored grass or patches of unhealthy turf
Ruts and soft muddy areas
Services:
French drains
Catch basins
Downspout drainage
Solid drains
Grading
A well designed drainage system is essential to any landscape. Without proper drainage the water can collect in certain areas and cause costly damage. This is one of the most important issues in any experienced landscapers mind before any project begins.