Irrigation & Water Management
Irrigation:



Project Landscape is the leading lawn sprinkler installer in the landscape industry for Calgary and the surrounding areas. We understand that a major component to maintaining a healthy, lush landscape is the necessity for proper watering. Project Landscape brings quality and affordable irrigation systems to Calgary residential and commercial properties. Controlling water is an essential
 part of maintaining a beautiful landscape, and a well-designed irrigation system will provide the assurance that your landscape is kept in good health.
We design our systems to allow for precise watering and overlapping coverage to eliminate dry spots. The system can be programmed and adjusted with head to head coverage to provide the proper amount of water in each area of your property. Not only does this save money through reduced water usage, but it also helps to protect your investment.
Call us for a free quote and discover how truly affordable Project Landscape can be. Our standard package exceeds most installers' premium installs!
Sprinkler System Installation:
Installing a new irrigation system doesn't only help your landscape in Calgary's dry summer, it's also a good return on investment. Project Landscape will carefully design your system to complement all the areas needed on your property. We will take the time to ensure you are properly educated on how to run the system effectively and efficiently.
Sprinkler System Repair:
Project Landscape offers audits and repairs to sprinkler systems. We recommend that you order this service at least once per year. We will run through each zone for proper coverage, adjust sprinkler heads, adjust running times, and make sure your timer box is in good standings. Project Landscape also offers our smart water system that's more efficient on water, which can help you save money and make sure your landscape investment gets the right amount of water.
Services:

Irrigation system installation
Custom irrigation system design
Major repairs
Service packages – Spring start up, winterization, system inspections
Additions to existing systems
---
Irrigation services for Calgary and surrounding areas:
Project landscape offers a wide range of irrigation services through-out Calgary, Okotoks , Chestemere, Langdon, Airdrie, High river and Strathmore.
Custom irrigation system design:
Project landscape takes careful planning when designing an irrigation system layout, installing a head here and one over there will end up costing your more money in the long run. We make sure that all our systems, when designed have the proper water where needed, we avoid watering concrete or unnecessary areas and always have head to head coverage.
What's included in an irrigation system: 
Irrigation timer box: An irrigation timer box can be installed indoors or outdoors, nine of ten customers prefer the indoor set up. They are typically installed in the basement next to your utility box or in your garage.
Valves: Valves are used for controlling the water flow for each zone. Each zone has 1 valve in most cases in residential use. They are located outdoors in your valve box.
Pipe: Poly or PVC pipe should be buried approximately 8-10 inches down to avoid damage. The pipes are more or less the nervous system of your irrigation system.
Sprinkler heads: These distribute water to your lawn and garden beds. Sprinkler heads can be adjusted to create different patterns and distance to maximize your coverage.
Zones for your irrigation system:
Our irrigation designers will come out and first determine how many zones your landscape needs to be split up to. How much water each zone will need and rough placement of irrigation heads and the valve box. For most home owners the zones are split up as follows.
Garden zone: your garden beds or flower beds will require less water than your turf areas. Using a drip line system, smaller spray heads or bubblers in these areas ensures your plants won't be damaged or bruised during the watering cycle.
Shrub beds: Using high rise sprinkler heads in these landscaped areas is ideal to have the water flow from above, this helps get the right amount of water where needed.
Lawn areas: The most common sprinkler heads used on your turf area is the spray head, for larger areas the use of rotor heads will get the right amount of water. Project landscape basic practice in installing irrigation to your front and back yard is to have head to head coverage. This helps to keep your landscape in pristine shape in Calgary winds.
Irrigation system pricing:
There are many factors to consider when pricing out an irrigation system. Our clients love the fact they don't have to sacrifice great results when having us complete their irrigation project.
Here are a few factors that will help you determine irrigation pricing:
The size of the yard
How many garden beds, shrub beds and flower beds
Slope and lay out of the yard
Soil conditions
Types and amount of trees
The advantages of an irrigation system:
Adding irrigation to landscape is a home improvement project worth considering. Not only does it make the list for top projects to complete for higher home sale it saves you money on your water bill.
Maintains and keeps your landscape healthy
Irrigation systems will save on water compared to hand watering your yard
Saves time vs hand watering
Increases home value
Helps conserve water
Cuts down on lawn diseases
Irrigation plumbing 
Project landscape uses our in house certified plumber. This means we have the experience and knowhow for all your indoor hook ups.
Winterization of your irrigation system
Every fall before the ground freezes it is imperative that you have your irrigation system blown out. If the water freezes in the line, it will expand and cause costly repairs.
Irrigation Spring start-ups:
When spring arrives in Calgary it's time to start back up your irrigation system. Starting up your system is a little more than a flick of the switch on your timer box. The irrigation system should be thoroughly checked over, heads should be adjusted and any maintenance, such as leaks. These should be repaired right away to ensure you're not wasting water.
Irrigation rain sensors:
An added benefit to your irrigation system. Rain sensors automatically turn your system off when the rain starts, it also adds the benefit of saving water.
Smart irrigation system timer box:
The Wi-Fi technology has hit the residential and commercial irrigation market. These smart program boxes can track water usage, let you know about maintenance issues and you can turn it on off with your cell phone.
---
Drainage
Drainage is one of the most important aspects of landscaping and also is one of the most often overlooked. It is just important as proper watering. Excessive moisture can lead to a multitude of problems, such as loss of plant material and turf, disease and insect problems, damage and rutting from the lawn mower, and compacted soil and water damage in your home which can lead to thousands in repairs. Let the pros at Project Landscape make sure you have proper drainage.
Some signs of poor yard drainage include: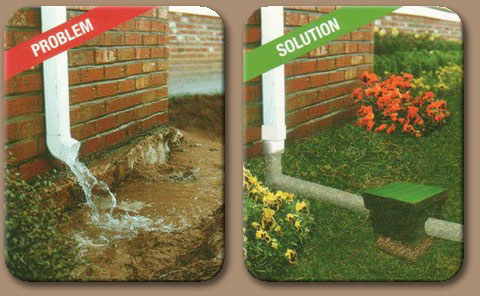 Standing water or puddles in the landscape or lawn
Plants that are yellow, wilted, or appear unhealthy
Discolored grass or patches of unhealthy turf
Ruts and soft muddy areas
Services:
French drains
Catch basins
Downspout drainage
Solid drains
Grading
A well designed drainage system is essential to any landscape. Without proper drainage the water can collect in certain areas and cause costly damage. This is one of the most important issues in any experienced landscapers mind before any project begins.