Patio & Walkways
One of the best ways to increase your home's value in Calgary is to have good curb appeal, and what better way to do this than to add paving stones? If installed correctly, paving stone patios or walkways can be a great landscape enhancement to any residential or commercial property. We take our installation process very seriously at Project Landscape. We check everything from proper drainage to a solid sub-base, and we work our way up, making sure every patio or surface we construct is built to last.
---
Patio Pavers vs Concrete
"In terms of value, paving stones are considered to be one of the only hardscape products that instantly adds value to your Calgary home upon completion."
Cost Comparison
Standard concrete slabs are generally lower in cost per square foot than paving stones. If you upgrade to stamped, color, or exposed, paver installation can run about the same price or even less in most cases. While a concrete slab can be more affordable upfront, the long term cost can almost always outweigh the initial savings.
Differences in Installation Process
Concrete slabs are somewhat easy to install, but the material takes time to dry and cure. The installation process includes excavation of the area, preparation of the foundation, setting forms, and pouring the concrete. Paving stone installations require a lot more preparation. The installation process includes excavation of the area, compaction, grading, installation of sub base and compaction, base installation and compaction, sand preparation, laying of stones, brick cuts, installing brick edge, installation of sand, compacting the stones, and finally sealing the pavers upon completion.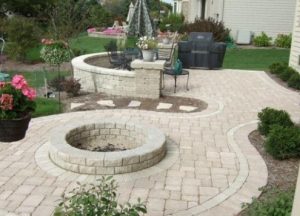 Maintenance and Repair
Concrete slabs are relatively easy to maintain, however, staining and cracking will often occur. Nine times out of ten, after the initial pour of the slab, your slab will crack. Please check the Calgary industry standards on concrete installation. Cracks and staining are a lot less visible on stamped, colored, and exposed concrete but still have the chance to expand. There is the option of sealing the concrete to prevent the stains coming to the surface. Spraying sealer can become very slippery if such precaution is done. Attempting to repair the crack could look like a patch job, and in most cases, it can become a bigger eyesore than it was originally. Paving stones require little care, but the joints between each stone might require a little attention from time to time. If any settling occurs, then the stones can be simply lifted and installed with a bit more sand.
Durability
Concrete slabs' longevity is greatly affected by movement. Concrete is prone to cracking and splitting if the ground beneath shifts. The surface of the concrete may  stay level for a while, but cracking is inevitable once the soil becomes unstable. Changes in temperature can also cause the concrete to expand and contract, which will also cause the concrete to crack. We all know Calgary weather, and with the never ending temperature changes, this is more common in this zone. With pavers, water rarely tends to settle onto the surface because of the numerous joints throughout the surface. With a properly graded patio installation, drainage issues should never arise. Paving stones are rated four times as strong as a typical concrete slab.
Safety and Value
Concrete surfaces can often be very slippery when wet. Additionally, this can be very dangerous if someone were to slip and fall on the hard concrete surface. Pavers are manufactured to be non-slip. This means, when the surface is wet, that kids and adults will always have
traction. 
Choosing the Right Patio or Walkway Contractor
Many Calgary walkway and patio contractors' possess basic skills and experience to bring a landscape project to life. Every hardscape has two major components, first being the base that your new patio or walkway is being built on. Landscape contractors can save a lot on materials and time by skimping on the amount of base materials and the time spent on the base. Skipping these steps and taking the time gives paving stones a bad taste to many home owners. Pavers that sink or shift is caused by improper base installation. The best way to avoid this problem is to do your research to choose the right contractor.
Material selection is also an important step in the hardscape process. This can be a challenging choice to make while planning your new outdoor living space. Project landscape will work with you in all aspects of selections to enhance your properties unique style.
We at Project landscape take our profession seriously and invest in training our staff in all aspects of the installation process.
Patio Paver Installation Calgary
Landscaping in Calgary is becoming more popular by the day, as homeowners are extending their living areas beyond the walls of their home. Bringing your life to an outdoor living space begins with a patio, they are the key element to any landscape design. They serve as central hubs for entertaining family and friends and are often the primary location for fire pits, pergolas and outdoor kitchens.
Paving stone patios come in at a greater initial cost compared to other outdoor surfaces, such as broom finished concrete, wood decks and stamped concrete. While the cheaper surfaces are more affordable in the upfront cost the long-term for repairs will always outweigh the initial savings.
Benefits of installing a Paver Patio
Paving stone selections
When it comes to paving stones the selections of colors, styles and patterns seem endless. Every year landscape suppliers are introducing new colors and products to keep up with the latest trends.
Durability
Because of their strength factor compared to concrete and the fact that they don't make paving stones the clear choice when choosing materials for your new patio.
Maintenance
There is virtually no maintenance when it comes to paving stones, the upkeep is simple. We suggest sweeping the patio (paver) surface from time to time
to get rid of debris and then hosing down the pavers with a garden hose. Sealing your pavers should be done every two to three years.
Paving Stone Installation In Calgary
If you are looking for a paving stone installation company in Calgary that you can trust, you have come to the right place. One of the biggest investments homeowners make in their outdoor living space is the installation of paving stones for their walkway, patio of driveway.
Not only do paving stones instantly add value to your property, they are also the starting point of many outdoor living spaces.
Driveway paver installation in Calgary
Driveways are one of the top overlooked features of your home and the first thing people see when passing. Paving stone driveways add instant curb appeal to your property. With the wide variety of color options and styles, it gives consumers the added benefit of using paving stones as their material.
Benefits of installing a paving stone driveway
Aesthetics
Paving stones have more choices when it comes to colors, patterns and styles than any other hardscaping material, because of the large number of choices they have to offer, it gives homeowners the ideal surface when installing a new driveway. They can be used to blend into the existing landscape or the overall look of the exterior of your home.
Maintenance
Very little maintenance is required when it comes to paving stones. A few simple do it yourself steps for cleaning and maintaining. Simply hose off with a regular garden hose to remove dirt and debris. For tougher stains, a cleaning solution might be in order.
When installing paving stones we recommend to have the pavers sealed after the installation process and then once every 2-3 years. This will avoid staining and keep the natural look for years to come.
Durability
Paving stones are at the top of the list for strength and durability. With a higher strength rating of 8000 PSI, pavers leave concrete in the dust with a rating of 3500-4000 PSI. Another plus in the paving stones vs. concrete installation, is that concrete is almost certain to crack…especially in Calgary's freeze-thaw cycle.
How long will a paving stone driveway last?
A properly installed sub base is the key ingredient to the longevity of your paving stone driveway. If properly installed you can expect to get from 25-50 years out of your investment.
Pool deck pavers in Calgary
Swimming pools aren't overly popular in Calgary due to the short season and climate, but nothing is more appealing then adding a swimming pool to your landscape. When it comes to having one installed one of the first questions you will be asked by your contractor is your choices for pool deck surface. Making a decision can be overwhelming with all the different choices a homeowner can choose. Project Landscape, being a qualified contractor has done the research and pavers, as described below, offer a clear advantage over other poolside surfaces.
Benefits of using paving stones for your pool deck
Using paving stones is a clear cut choice for your pool deck area. They offer so many benefits compared to concrete and other hardscape surfaces. They are safe under wet conditions, as they are non-slip and skid resistant, durable, visually appealing and resistant to spills. The maintenance on paving stones is equally impressive. A big issue with pool decks is the buildup of mildew and algae, paving stones are naturally resistant to both. They can easily be cleaned with a garden hose and scrub brush therefore not contaminating your pool with chemicals.
Landscape design for pool areas
Most Calgary pool companies put their main focus on the design and construction of the pool, not the areas surrounding them. The addition of landscape upgrades brings the pool to life, makes your vision a reality and creates an atmosphere for you and your guests.
Add on features for your pool area
Plants
Plant selections play an important role around your pool area. It's vital to choose the right plants zoned for Calgary, often buying plants from large box stores brings down the plants survival rating. Being a professional landscape company, we rely on locally grown nurseries for all our clients' plant selections.
Best plants to keep poolside for privacy
Many of us like privacy, especially around a swimming pool. Nobody likes to be displayed stepping in and out of their pool. Installing trees and shrubs creates the perfect privacy, without taking away the overall aesthetics of your pool area. Besides, cutting off noisy neighbors, plants also act as a wind breaker to make your poolside living more comfortable.
 Our favorite plants for poolside landscaping:
Colorado blue spruce
Norway spruce
Yucca
Globe blue spruce
Hosta
Calgary carpet junipers
Fire pits
I think we all can agree that fire pits and swimming pools are the ultimate addition to backyard living. Adding a fire pit poolside has a certain way of keeping entertainment into the night. Fire pits can be installed as either wood burning or set up for natural gas. Many home owners take the natural gas option due to clean up for wood burning fire pits.
Fire places
Outdoor fire places continue to be a top feature along the poolside, being the focal point in most landscapes they set the stage for outdoor living. Fire places can come pre-fabbed or be custom built to blend with your existing landscape.
Pergolas
Pergolas add shade and a place to sit and relax along the poolside. They create a place to entertain with friends and family and bring backyard privacy to a whole new level. By adding a pergola to your landscape and pool area, you maximize your usable outdoor living space and it brings the full value of being outdoors. They are the perfect setting for outdoor dining or a place to sit around=d the fire pit on cooler evenings.
---
Patio Lighting
Enhance your new or existing paver patio with patio lighting. Patio surface lighting provides safety and security, as well as bringing your patio to life for an inexpensive cost.
Get started with a FREE estimate today!
---
Clean and Seal Service
Project Landscape offers concrete and patio surface cleaning and sealing for those who want to keep their walkways, patios, driveways, pool decks, and outdoor  steps in pristine order. We can restore your hardscape surface from sinking by adding our polymeric sand, pressure wash, and seal to ensure they stay looking good for the years to come. Cleaning and seal services can also be used on retaining walls. We can restore the color and beauty that may have been faded over the years.
Pavers driveways and walkways
Flagstone
Paver patios
Outdoor fire places
Steps
All types of concrete
Retaining walls
Natural stone