Water Features
A well-placed and designed water feature can add movement, sound, and a cooling element to your outdoor living space. The applications for water features are seemingly endless in the landscape.
If your goal is to add some subtle sound and movement to your outdoor seating area, a water feature can create unmatched ambiance. We offer the following: 
Waterfalls and stream beds
Garden ponds
Dry creek beds
Columns and bubblers
Aquatic gardens
---
Patio Ponds
Project Landscape patio ponds make it simple to have a water garden in almost any setting. Creating beautiful planted water bowls or container water gardens has never been easier.


---
Rubaroc
Imagine a slip-resistant surface that only enhances the look of your playground, splash pad, patio, pool deck, entrance or walkway but also provides comfort, resilience, and style!
Residential applications
Concrete resurfacing
Pool decks, hot tub pads, and splash pads
Entranceways, walkways, patios
Playgrounds
Logos and designs
Garage surface and driveways
Interiors
Sport courts
Learn more about Rubaroc here.
---
Drainage
Drainage is one of the most important aspects of landscaping and also is one of the most often overlooked. It is just important as proper watering. Excessive moisture can lead to a multitude of problems, such as loss of plant material and turf, disease and insect problems, damage and rutting from the lawn mower, and compacted soil and water damage in your home which can lead to thousands in repairs. Let the pros at Project Landscape make sure you have proper drainage.
Some signs of poor yard drainage include: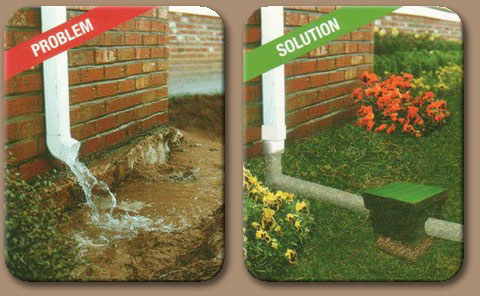 Standing water or puddles in the landscape or lawn
Plants that are yellow, wilted, or appear unhealthy
Discolored grass or patches of unhealthy turf
Ruts and soft muddy areas
Services:
French drains
Catch basins
Downspout drainage
Solid drains
Grading